Darjeeling black tea is also well-known as the "Champagne" of teas because of its crisp and light muscatel flavor.  Darjeeling black tea comes from the Darjeeling region of West Bengal, India, where the conditions are ideal for growing and producing tea.  Although Darjeeling black teas are normally categorized as a black tea, the majority of Darjeeling teas are less that 90% oxidized, so they are much more like a dark Oolong than an actual black tea.
Unlike other Indian teas such as Assam teas, the Darjeeling teas produced in India are grown from the small-leaved variety of the Chinese tea tree instead of the more common Assam tea tree.  As mentioned above, Darjeeling tea is known as a black tea, and most people associate Darjeeling teas with being a black tea.  However, India is now producing Oolong and Green versions of Darjeeling teas, and some estates are even producing quite rare white Darjeeling teas.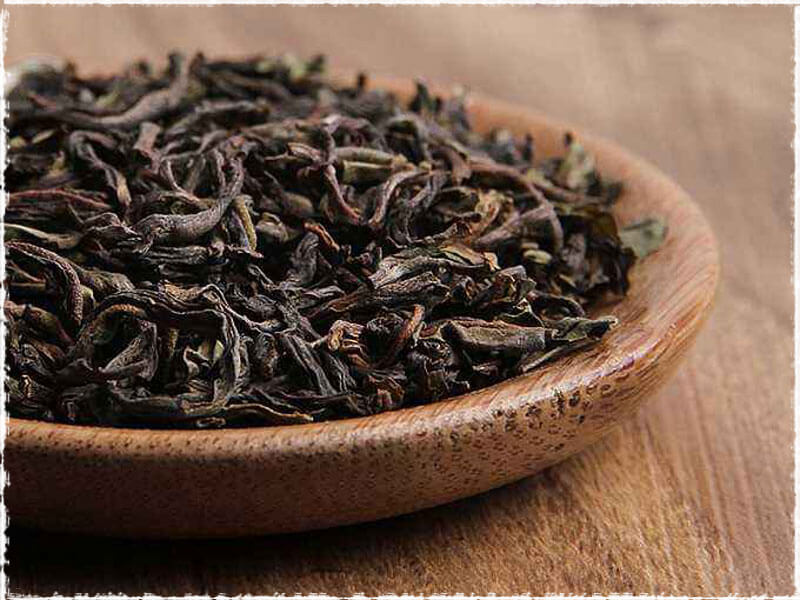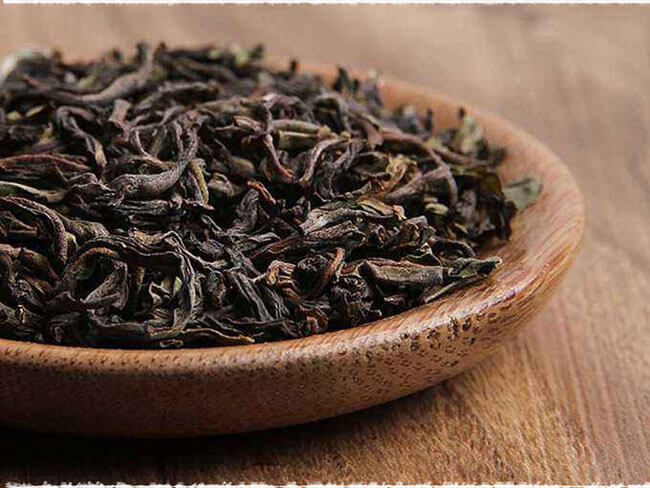 Darjeeling teas in India began being grown and produced during 1841 by one Dr. Campbell who was a civil surgeon in the Indian Medical Service.  When he was transferred to the Darjeeling region in 1839 he began to experiment with planting tea trees from China in Indian soil which continued through the 1840s.  Commercial production of Darjeeling teas did not begin until the 1850s.
Now that Darjeeling teas are widely available throughout the world, you must be careful to purchase true Darjeeling teas, not other teas or blended teas marketed as Darjeeling tea.  The amount of Darjeeling tea sold across the world each year is approximately 40,000 tonnes, and the annual production of Darjeeling is only approximately 10,000 tonnes, so to ensure that true Darjeeling teas were authentic, the Tea Board of India now marks true Darjeeling teas with a certification mark and their Darjeeling tea logo.  Much like Champagne in France, Darjeeling tea cannot be grown or manufactured anywhere else in the world besides the Darjeeling region of India.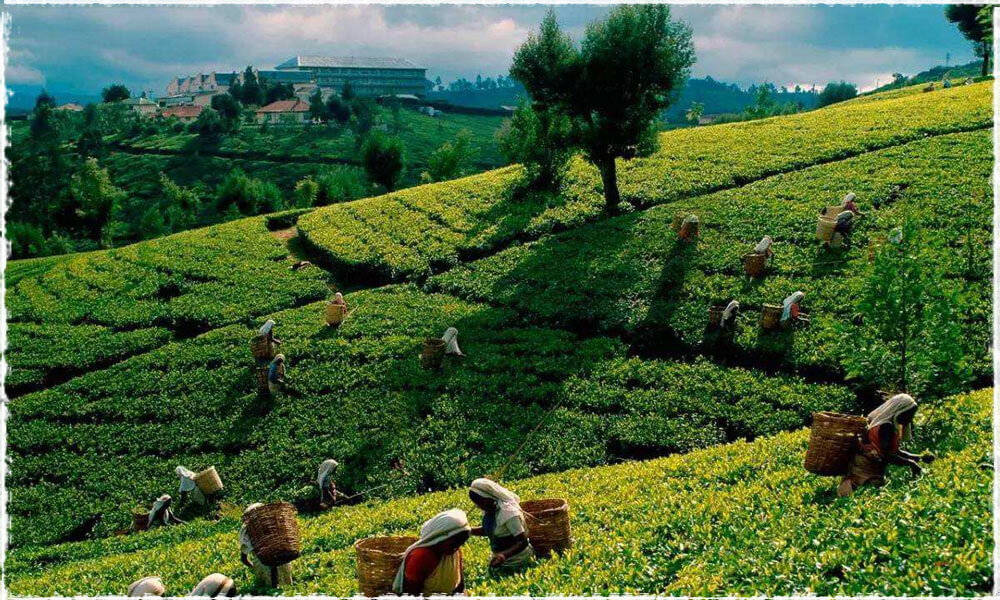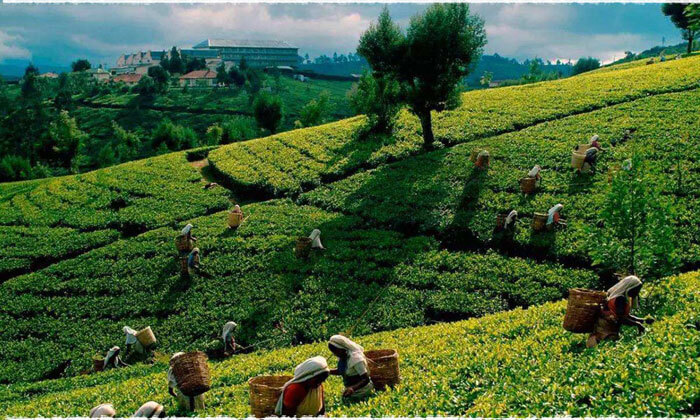 Darjeeling black tea has many different varieties and classifications.  There are two main "flushes", or plucking times during the year which produce different flavors and aromas to the Darjeeling black tea itself.  The first flush occurs early in the year, generally in March following the spring rains.  First Flush Darjeeling teas are the most highly sought after and have a very gentle light color and aroma, that is crisp, refreshing and has a distinct muscatel flavor.  The second flush is harvested in June and has a much deeper, richer and mellow flavor with a hint of smokiness to the background, this is also a highly sought after tea as the flavor is very smooth with very little astringency.
There are also three other "flushes", the "in-between" flush is harvested between the first and second flush harvests.  The monsoon or rains flush tea is harvested in the monsoon (rainy) season, directly after the second flush has been harvested.  The in-between flush is less withered and oxidized so it is usually the cheapest of the Darjeeling teas and it is rarely exported except for its common use in Masala Chai teas.  The autumnal flush is the last flush of the season and it is harvested late in autumn, with a slightly less delicate flavor, that has a smooth full body and deep richly colored liquor.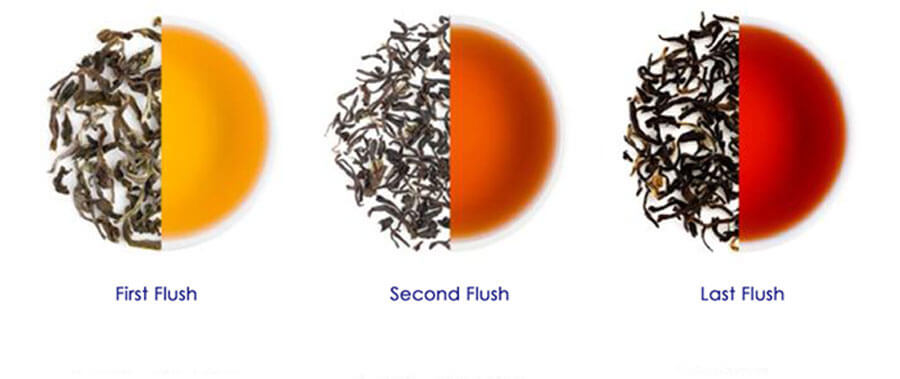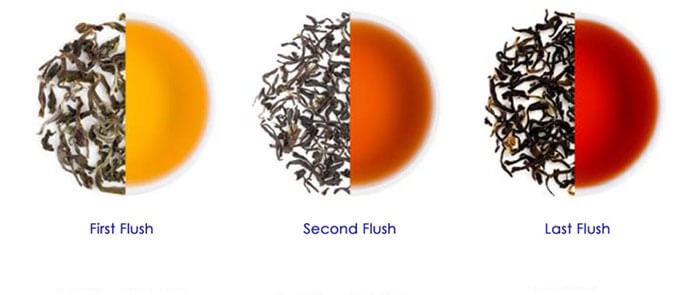 Along with Darjeeling flushes, they also grade Darjeeling black teas by size and quality.  These grades fall into four basic groups: whole leaf which is premium Darjeeling tea, broken leaf, fannings and dust.  However you will find that in those four groups there are many different designations for Darjeeling tea, including the following grades:
Whole Leaf Grades of Darjeeling Black Tea
SFTGFOP: Super Fine Tippy Golden Flowery Orange Pekoe indicates that it contains many tips and are long and wiry in appearance. The liquors are lighter in color.
FTGFOP: Fine Tippy Golden Flowery Orange Pekoe.
TGFOP: Tippy Golden Flowery Orange Pekoe
Broken Leaf Grades of Darjeeling Black Tea
FTGBOP: Fine Tippy Golden Broken Orange Pekoe.
TGBOP: Tippy Golden Broken Orange Pekoe.
FBOP: Flowery Broken Orange Pekoe.
BOP: Broken Orange Pekoe.
Fanning Leaf Grades of Darjeeling Black Tea
GFOF: Golden Flowery Orange Fannings.
GOF: Golden Orange Fannings.
Finally the lowest grade of Darjeeling black teas is called "dust" and is very fine fragments of tea leaves and stems.  Try to stay away from the dust or fannings grades of Darjeeling black tea to ensure the best quality of your Darjeeling black tea.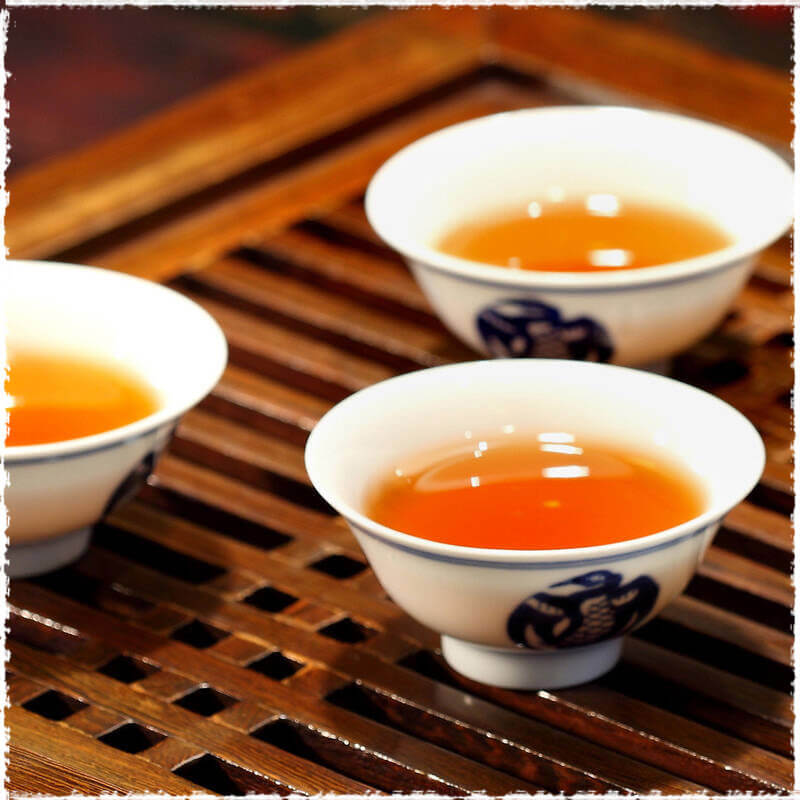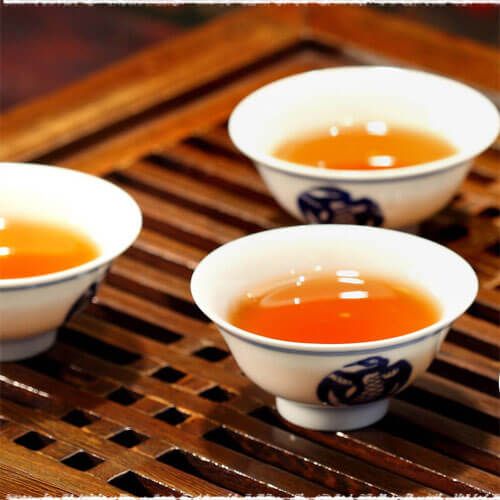 People who enjoy Darjeeling tea may also enjoy drinking Teavivre's carefully selected Black Teas including our highly recommended Bailin Gongfu Black Tea, Yun Nan Dian Hong Black Tea – Golden Tip, Premium Keemun Hao Ya Black Tea.