Zhen Mei green tea, also known as Chun Mei, or Chun Mee, is nicknamed "Precious Eyebrow Tea" because of the shape of its leaves.  Chun Mei is a non-fermentedgreen tea so it keeps the fresh leaf's natural nutrients in the leaves.  Tea polyphenols and caffeine represent more than 85% of the components of a tea leaf, while Chlorophyll keeps in about 50% of the fresh leaves, and by being a non-fermented tea it loses very little of its high vitamin content.  Learn more about the health benefits of green tea by reading our article on Green Tea Health Benefits.
Each individual leaf of Zhen Mei tea is very thin and beautiful, like a beautiful girl's eyebrows.  The color is a deep shiny jade green color, and it has a distinct chestnut aroma.  The flavor of Chun Mee is very strong and sharp, with a fresh astringent and sweet aftertaste that cleanses the palate.  The brewed liquor of the green tea is a clean and bright yellow-green color.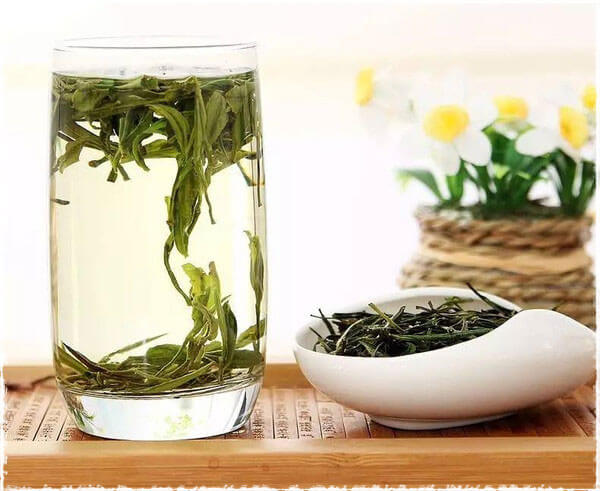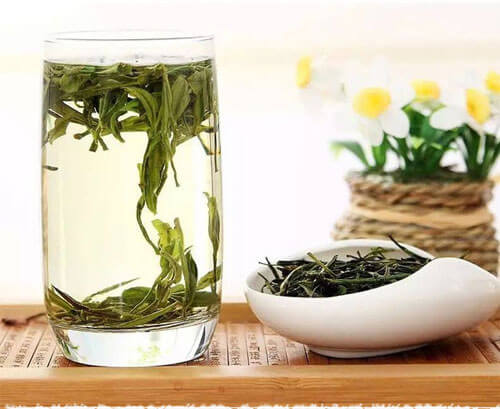 Preparing Chun Mei Tea with a Teapot
Choosing an ideal teapot:  The ideal teapot will be made out of ceramic or glass. In this tutorial we will use a ceramic teapot, although a glass teapot will allow you to experience the beauty of the leaves unfurling and steeping in the water.
Add Your Chun Mee Green Tea Leaves:  Add 1-2 teaspoons of dry Chun Mei green tea into your teapot.  Once you have experienced Chun Mee, you can adjust how much tea leaves to add to create the perfect flavor for you.
Pour Water into Your Teapot:  Pour 90 ºC (200ºF) water into the teapot, and allow the Chun Mee tea leaves to steep for approximately 1-2 minutes. Be careful when brewing your Chun Mee tea leaves that you don't use too hot of water or the beneficial nutrients and antioxidants offer by the tea leaves will be destroyed and the resulting brew will be quite bitter and undrinkable. So make sure your water temperature never reaches the boiling point when brewing green tea.
Serving Your Chun Mei Green Tea: Finally, after properly brewing the tea leaves, you can serve the brewed Chun Mei. The brewed tea will be a beautiful clear bright yellow-green color.  Pour it into your teacup and enjoy the slightly bitter, slightly sweet flavor of the Chun Mei green tea.
Flavored Chun Mei Tea: If you enjoy flavored teas, and flavored green teas, you can add flavoring to your brewed Chun Mee tea.  Some good suggestions for flavorings are herbs such as lavender or basil, or flowers such as rose or jasmine.  You may also wish to vary you tea by adding milk, honey or sugar to your tea.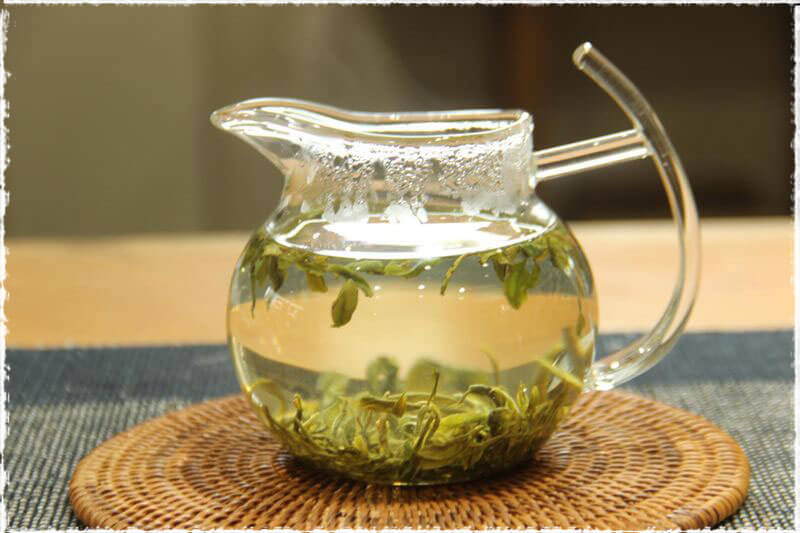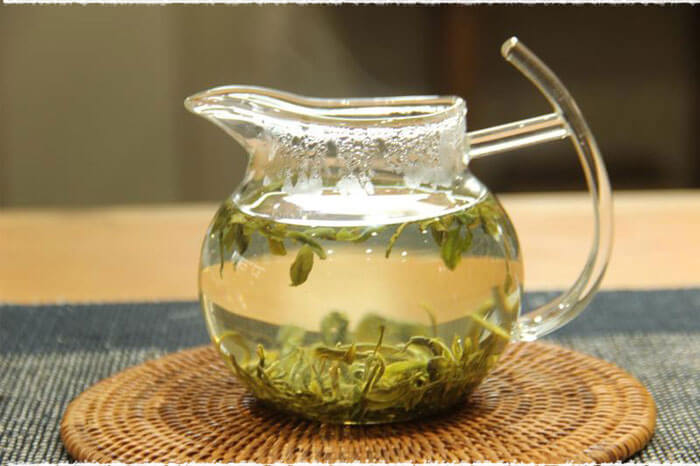 Preparing Chun Mei Green Tea in a Gaiwan
For those of you who are true tea enthusiasts, we would like to share with you the traditional way of brewing Chun Mei green tea using the traditional Chinese method with a teapot and Gaiwan.
Preparing Your Tea Set for Brewing:  The first thing you will need to do is to gather the necessary materials for the brewing of your Chun Mee, including your tea tray, tea holder,  Gaiwan, fair cup, Pinming cup, tea filter, tea shelf, and if you have one, a tea ceremony set which includes tea pin, tea tongs, tea spoon, tea scoop, tea funnel, and tea container.
Selecting and Adding Your Zhen Mei:  Using your tea scoop, remove approximately 2-3 grams of Zhen Mei from your tea canister, according to your own taste.  When possible, use only the best Chun Mei.  You can find complete information on choosing the best quality Chun Mei by reading our article, The Guide to Choosing A Top Quality Zhen Mei Tea.
Warming and Cleansing Your Tea Set:  Using boiling hot water, quickly pour and swish the water into your Gaiwan, as well as your fair cup and Pinming cups to remove any impurities or aromas and flavors from previously brewed teas.  Discard the boiling water after cleansing and warming your cups and pot for an optimal tea drinking experience.
Casting the Chun Mei Green Tea:  Using your tea spoon, cast the 2-3 grams of Chun Mee into your Gaiwan.
Recover The Tea: Pour 90 ºC (200ºF) water into your Gaiwan containing the green tea, then using the lid of the Gaiwan, scrape the bubble and impurities from the top of the tea, then use clean hot water to wash the lid. You next pour the water into your fair cup via filter.  The purpose of recovering tea is to allow the tea to properly release it's flavor, aroma and nutrients so that the resulting tea is of the highest quality.  Be sure not to take too long in the process of recovering the tea, or again, the tea will lose its quality and nutritional benefits, so when recovering the tea, be sure to pour the water immediately.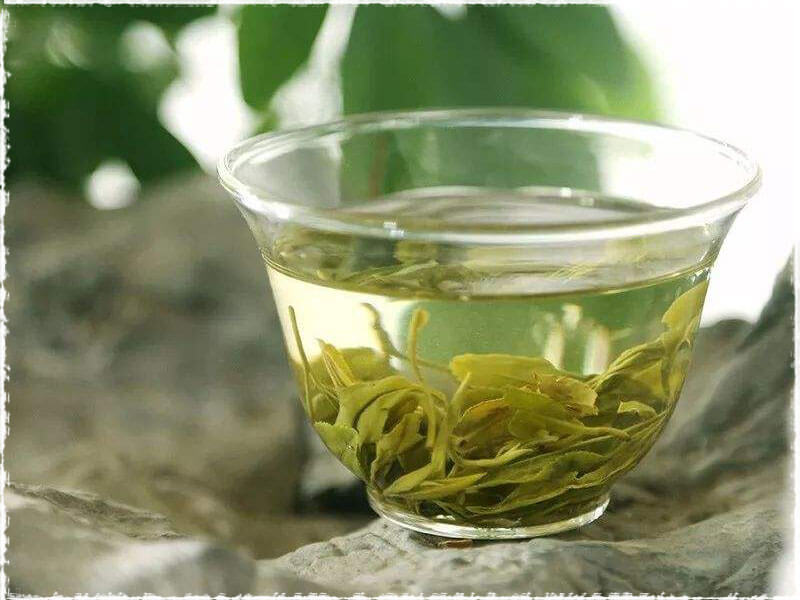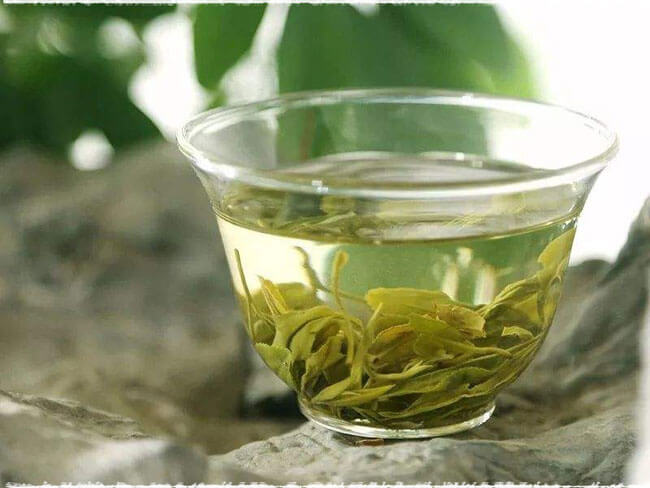 Serving The Tea:  The best part of brewing your Chun Mei in a Gaiwan is the serving and enjoyment of the brewed tea itself.  After brewing the Chun Mee leaves, pour the liquor into your fair cup while filtering the leaves through your tea filter.  Then using the fair cup, divide the brewed Chun Mei tea equally into each Pinming cup for you and your friends or guests to enjoy.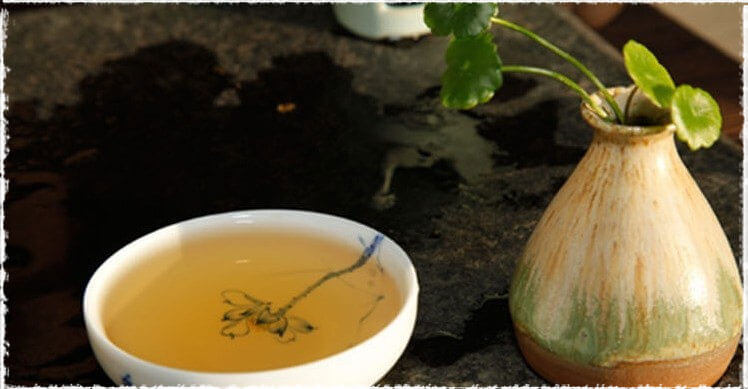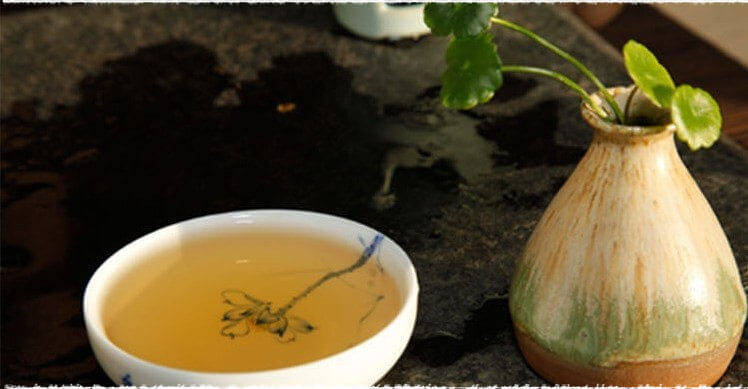 The Proper Steeping Time of Chun Mei: Chun Mei green tea is a unique tea which can be savored and re-brewed many times before loosing its flavor and nutrients.  We advise brewing our high quality Chun Mee green tea up to seven or eight times, depending on your own preferences.  With each additional brewing of your Chun Mei, be sure to add an additional minute or two to the brew time to extract the most flavor, aroma, and nutrients.