Chinese tea eggs, which also known as Chinese Marbled Eggs because the cracks in the egg shells create darkened lines with marble-like patterns, are such a popular snack that they can be found everywhere in China. Marbled eggs are very delicious snack with extra fragrant and flavorsome. When you're hungry, it not only provides energy for your body, but the fragrance of tea can also refresh your mind.
Black tea is one of the best materials for making Chinese tea eggs. Generally, black tea is full with strong fragrance without any bitterness, eggs cooked with black tea tastes more flavorful and the pattern it creates on the surface of the egg looks beautiful too! While green tea is often considered too bitter, and has a hit of astringent taste. Green tea has the characteristics of cold-natured, therefore, people who have stomach problems may not suitable for it.
Of course, you can also try to use oolong tea and puerh tea to make tea eggs, it will also work. Just slight difference for different tea when make tea eggs.
There is no necessity to use high quality black tea, you can simply use any common black teas like Keemun Black Tea – Grade 1 or Yun Nan Dian Hong Black Tea. Or if you have black tea bags at hand, you can also use tea bags.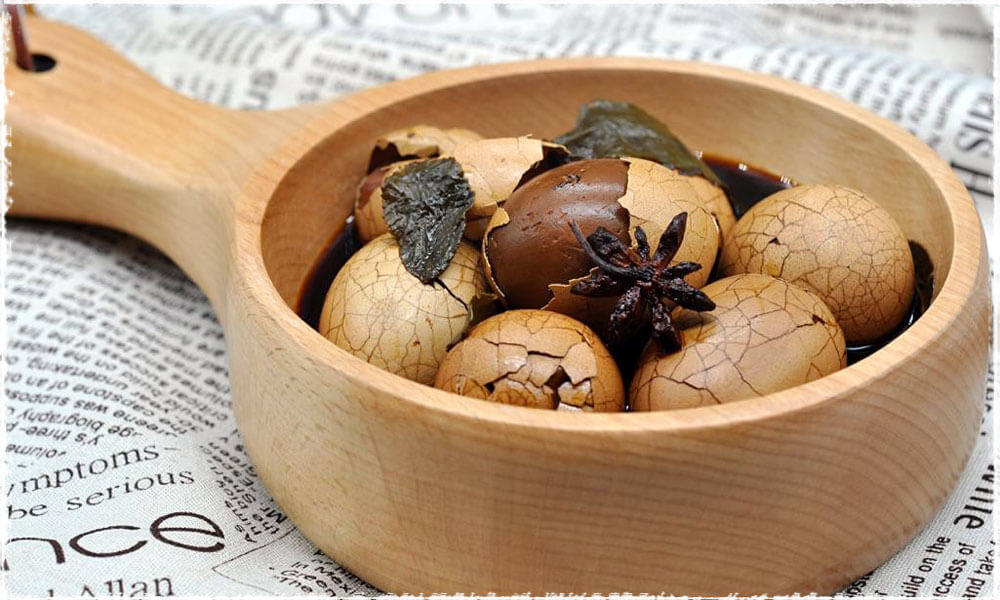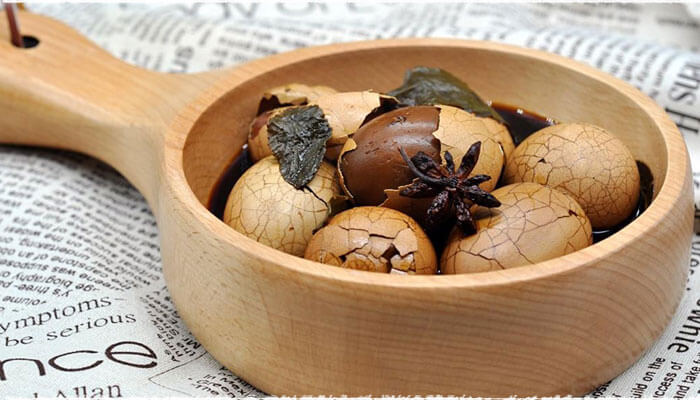 Different flavors of Chinese tea eggs depending on the spice used. You can use Oolong tea, pu-erh tea, even rose tea. Here we use black tea to make it:
Ingredients
8 Eggs ( or more)
15g Loose leaf black tea(or 2-3 black tea bags)
12g Salt
3 Star anise
2 Cinnamon
1g Szechuan peppercorns or black peppercorns (Optional)
3 Teaspoon light soy sauce and 1 teaspoon dark soy sauce
3 Bay leaf
5g Sugar (optional)
5g Ginger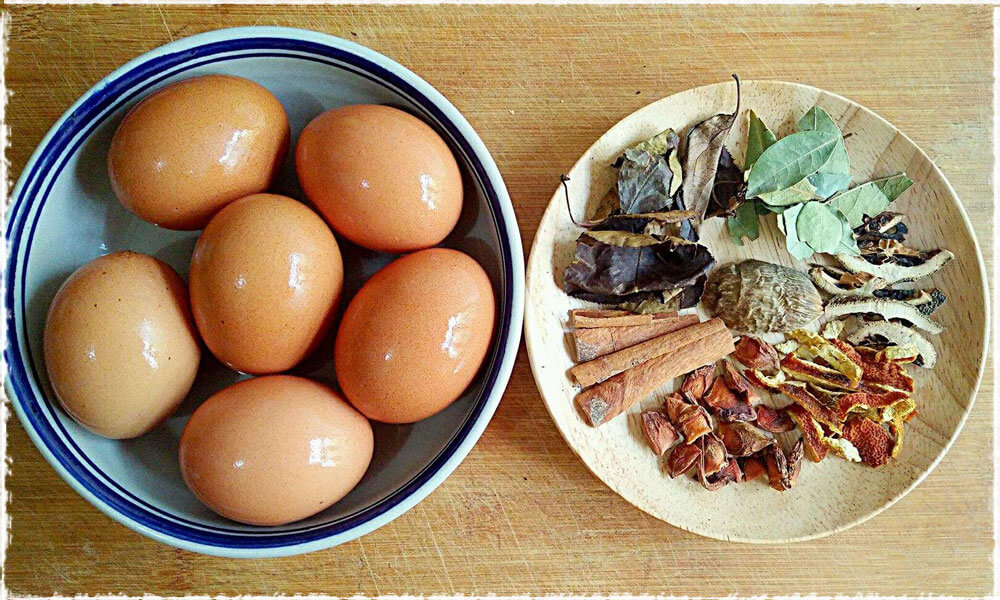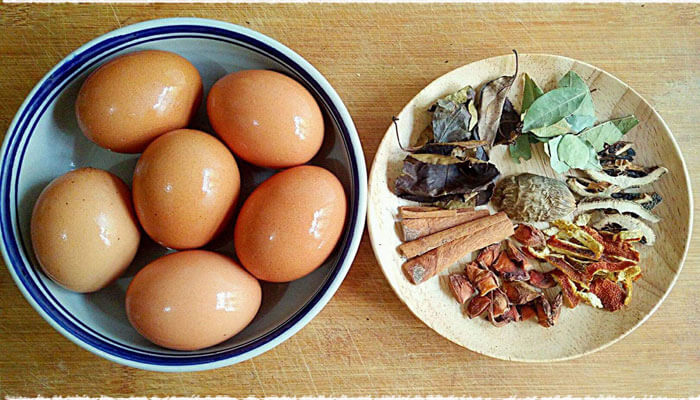 Directions
1. Prepare above ingredients, then place the eggs in a slow cooker (or medium pot) and fill with water to cover the eggs. Bring the slow cooker to a boil, lower the heat for 5 minutes.
2. Remove the eggs from the boiling water and let them cool under running cold water. Take each egg and tap them gently with the blunt end of a knife or the back of a spoon until the entire surface is cracked. Be sure to keep the shell intact.
3. Return to the pot or slow cooker again, fill with water and add in remaining ingredients.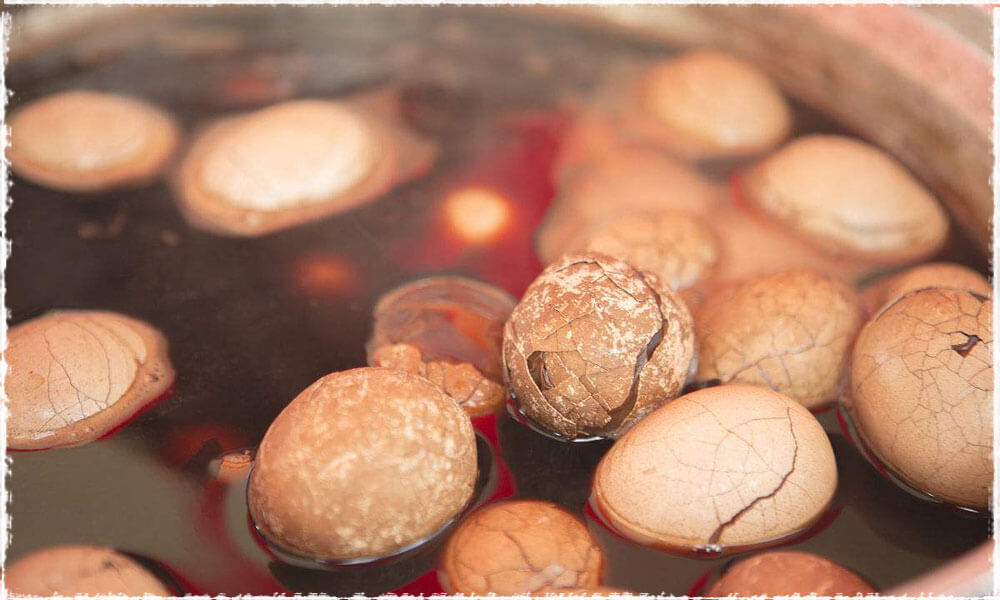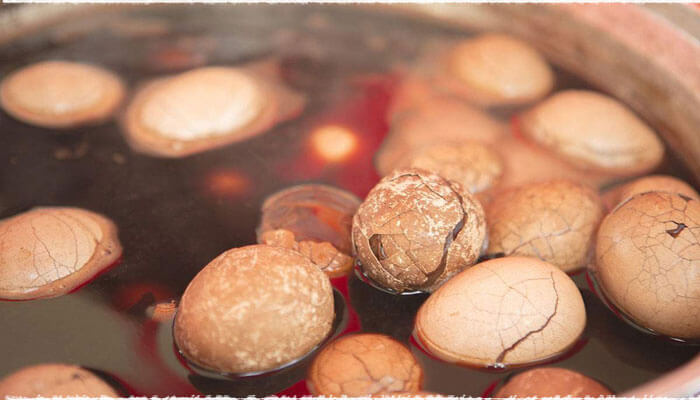 4. Stir the mixture and wait the mixture to boil, then reduce the heat to low, let simmer for 30 minutes (you can simmer for a longer time too).
5. Take the tea and other ingredients out of the slow cooker, cover with lid and let eggs steep for 3 or 4 hours.
If you like more flavorful and deeply colored tea eggs, we'd suggest steeping the eggs overnight after you finish simmering. Just peel their shells and enjoy these wonderful eggs!