Keemun Tea is widely recognized as the best black tea in china, and also considered one of the best available black tea in the world, therefore, it is crowed as the "Queen of Black Tea". The appearance of keemun black tea is slender and elegant, while brewed, its liquor is red and brilliant, and the taste is mellow.  Sometimes, it has the obvious sweet and fragrance, sometimes with rose, also with honey and fruit fragrance.  The special fragrance is regarded as the Keemun Scent by the tea lovers in home and abroad.
In the Chinese brewing method, except the Gaiwan method or glass teapot like the way of brewing bailin gongfu, just we should pay attention to different temperature and brewing time for the two different kinds of black tea.
The advantage of the purple-sand teapot is : keep warm, the brewed tea can keep it's own taste without loosing its original fragrance.
Step 1: preparing tea sets which need to be used in the brewing and adding 1-2 teaspoons tea into tea holder.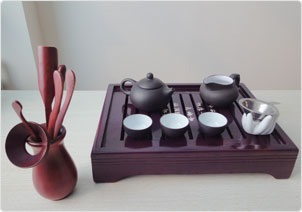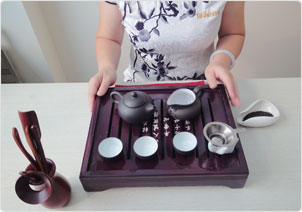 Step 2: in the Chinese brewing style, whatever method you use, before we brew the tea, we are accustomed to cleaning the tea sets, there is no exception for Sand-fired teapot.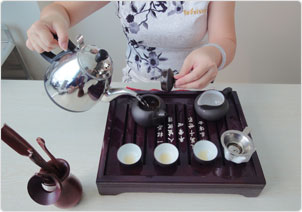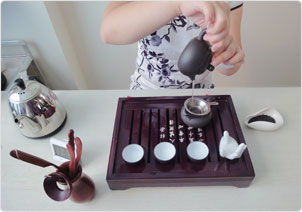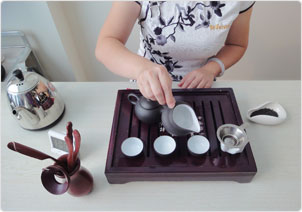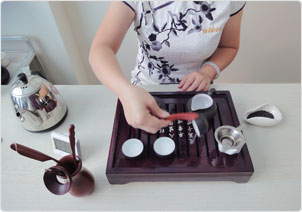 Step 3: using the teaspoon to cast your tea from tea holder in to Sand-fired teapot.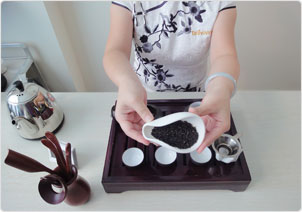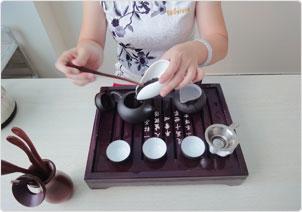 Step 4: add the 90 ºC(194 ºF) water into the teapot to brew the tea ( the water for brewing the tea are all boiled, then cool it to the temperature that you need)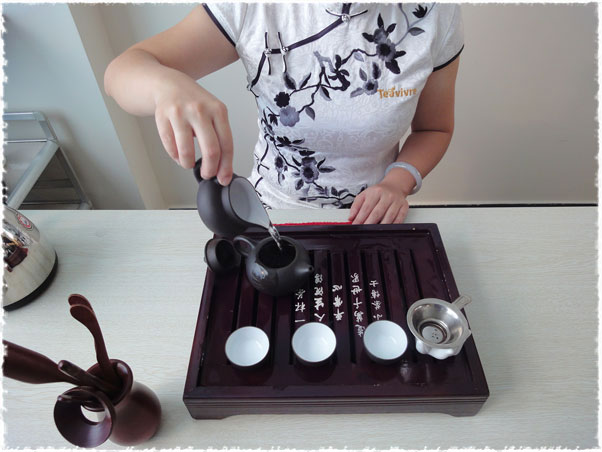 Step 5: pour the brewed tea through the filter into fair cup (this step is to wake up the tea as well as clean the fair up)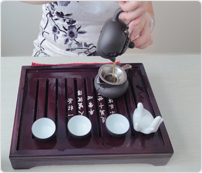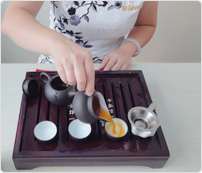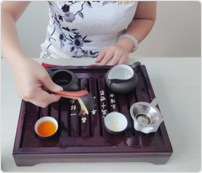 Step 6: add the water into the teapot again, and the temperature is about 95 ºC(205 ºF)and cover the teapot lid, then pour the water around the teapot.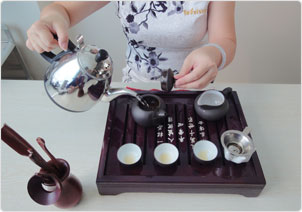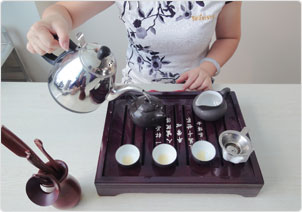 Step 7: when the water on the teapot's surface have disappeared, the first time brewing is finished.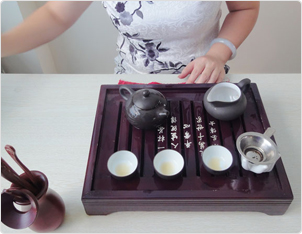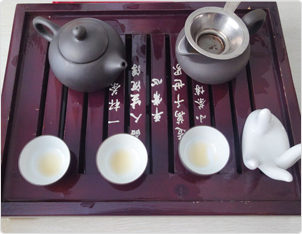 Step 8: after the teapot's water is disappeared, then you can pour the brewed tea in to fair cup, Lastly into the tea cups.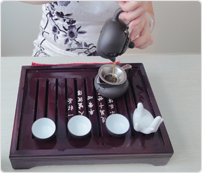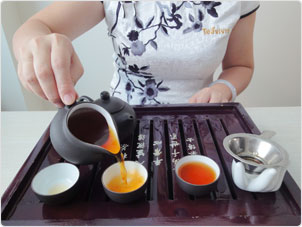 Attention: Do not pour the water into the teapot with a high position, because it will destroy the tea leaves, so the brewed tea will have bitter taste. And also do not over brewed the keemun black tea, thus you may not taste its special fragrance.