Caffeine is a natural alkaloid found in beverages such as tea, coffee, cocoa and chocolate. Tea lovers always concerns much about the caffeine content in tea. There are also many tea lovers who ask about how much caffeine contains in tea and worry about taking too much caffeine when drinking tea. Then, how much caffeine does the tea indeed contain? What factors influence the caffeine content in tea? What effect does caffeine lead to our body?
I. The Effect of Caffeine to Our Body
Caffeine has a positive effect on our body. It can make us energetic, stimulate metabolism, and promote the brain to secrete dopamine. Therefore, it is often used as one of the energy drinks, or to help weight loss.
Caffeine usually reaches the brain through the blood within ten minutes after drinking beverage that contain caffeine, thus it makes people feel refresh. Dana Hunnes, a nutritionist at the Medical Center of University of California, Los Angeles (UCLA), said that caffeine will disturb adenosine in the brain. Adenosine is a neuroleptic that inhibits brain activity and promotes hypnosis. When adenosine is disturbed, its effect on the brain will be diminished, which makes us feel excited. Moreover, caffeine directly stimulates the colon muscles, which promotes bowel movements. At the same time, caffeine also stimulates the gallbladder muscles and reduces the possibility of gallstones problem.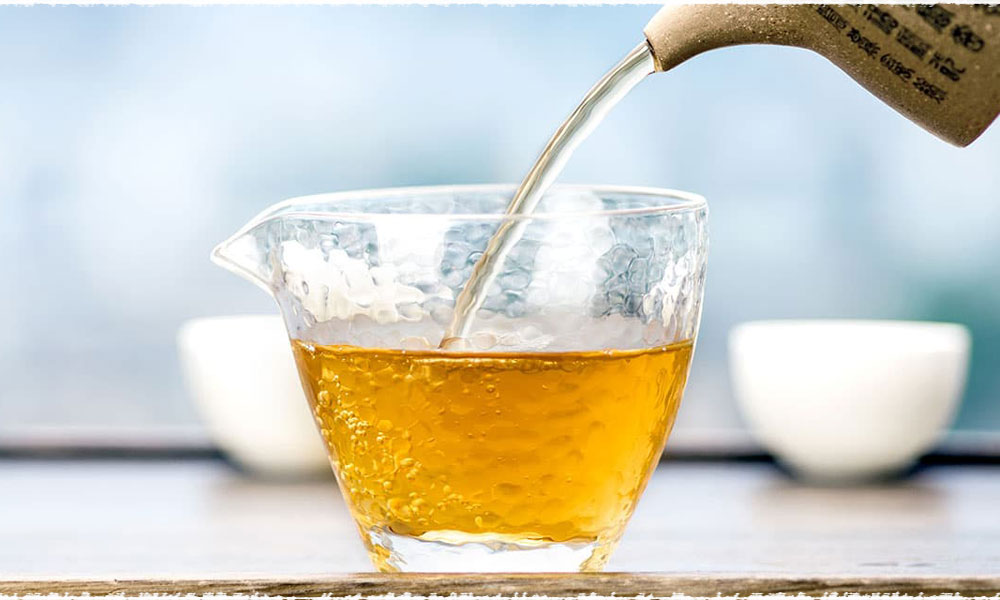 However, taking too much caffeine can also have side effects on the body. Especially when taking too much in the afternoon or at night, it may lead to insomnia. Furthermore, long-term intake of much caffeine may cause nausea, vomiting and diarrhea, dysphoria, headache and other symptoms.
How Much Caffeine is Safe Each Day
For adults, Health Canada recommends a daily intake of less than 400 mg. While for children of 12 years age and younger, they recommend a maximum daily caffeine of 2.5 mg per kilogram ("It's Your Health – Caffeine". Health Canada. March 2010. Retrieved 8 November 2010.) What's more, according to the suggestion of the American Medical Association of Obstetricians and Gynecologists, pregnant women should take no more than 200 mg caffeine. In clinical practice, it is generally suggest caffeine intake between 200mg and 300mg for pregnant women. If exceeding 500mg, it is bad for health, may cause miscarriage, or low weight of the new baby.
Speed of Excretion Caffeine in the Human Body
A group of researcher from Shanxi University research on the caffeine in the urine of three tea drinkers. The caffeine in the urine was detected 0.5 hours after drinking. The maximum concentration of caffeine is in 1 to 2 hours. After 18 hours, the caffeine content will be excreted completed. It can be seen the functions of excitement and diuresis caused by caffeine in the tea is most obvious 1 to 2 hours after drinking tea. Therefore, to avoid bad sleep caused by caffeine, it is not recommended to drink tea 1-2 hours before going to bed.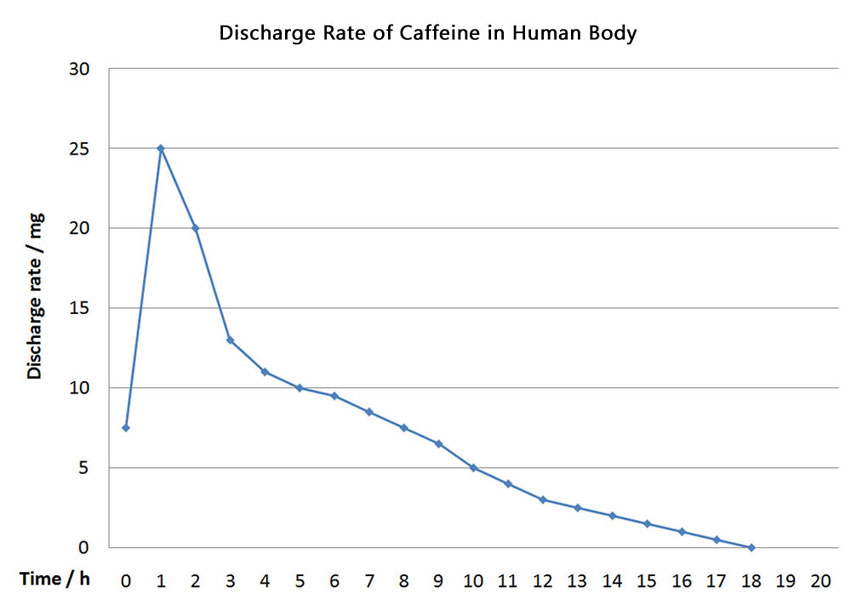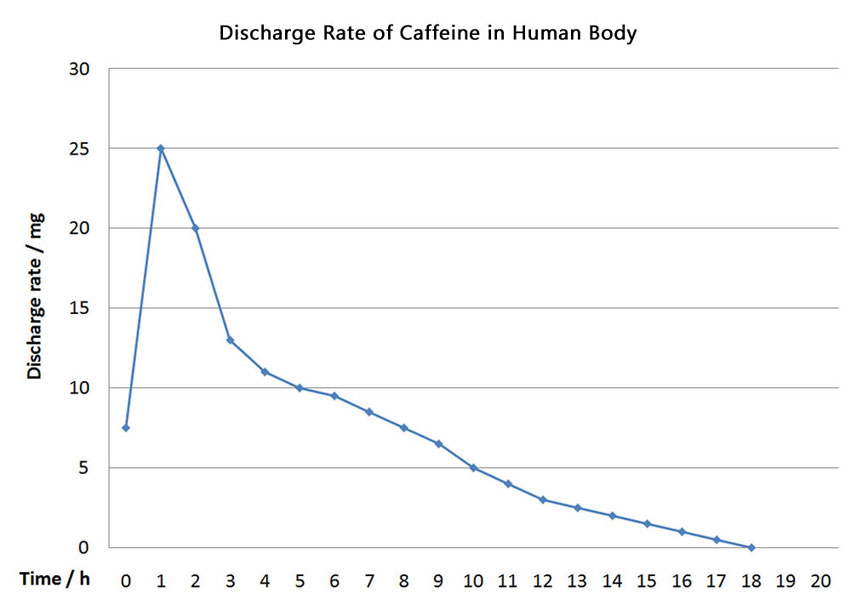 Data Sources: Environmental Science and Engineering Research Center of Shanxi University. Wei Yanli, Dong Chuan, etc. In pharmacokinetic study of caffeine in tea by room temperature phosphorescence, Analytical Chemistry, 2003, 31(2) 208-211
II. Caffeine Content in Different Drinks
As we all know, caffeine content is different in different drinks. Usually, a cup of 8oz coffee contains 50mg – 265mg caffeine varies from different types, which is relatively high. As for different soda, the caffeine content ranges from 5mg – 80mg.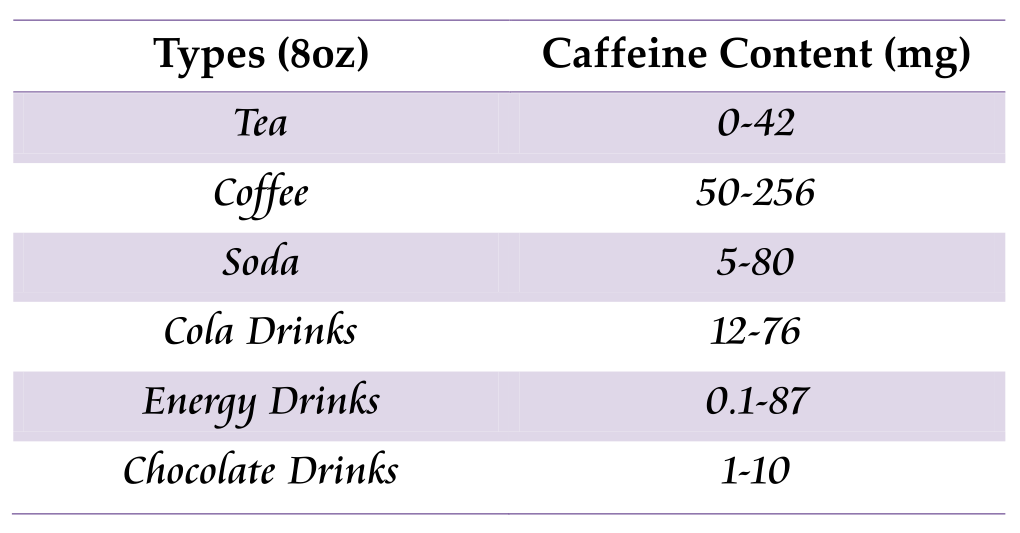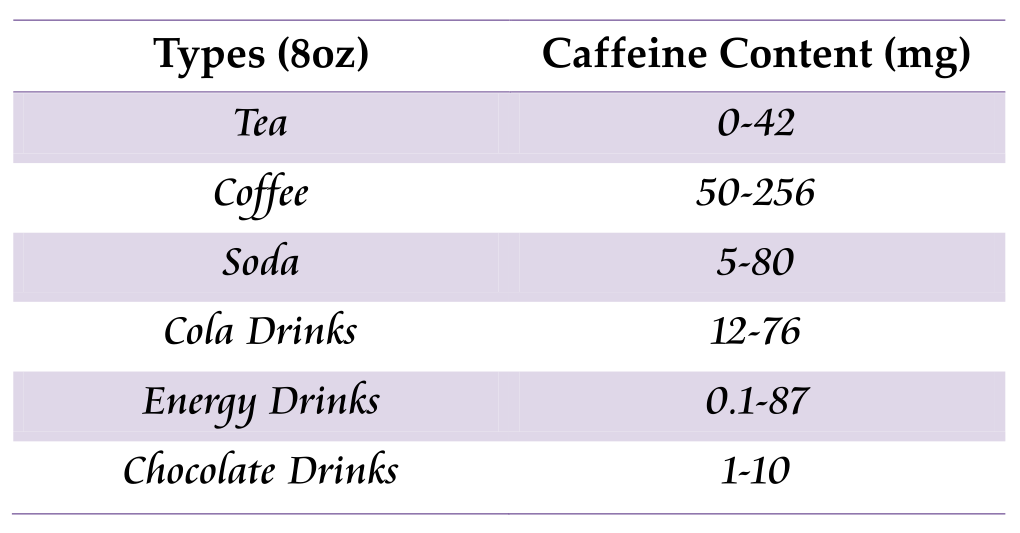 Data Sources: https://www.cfs.gov.hk/english/programme/programme_rafs/files/caffaine_c.pdf
In terms of tea, according to different type, their caffeine contents are also different. Form high to low are: black tea > pu-erh tea > oolong tea > yellow tea > white tea > green tea > decaf tea > herbal tea. The following are the caffeine content in 8oz tea liquid of different teas.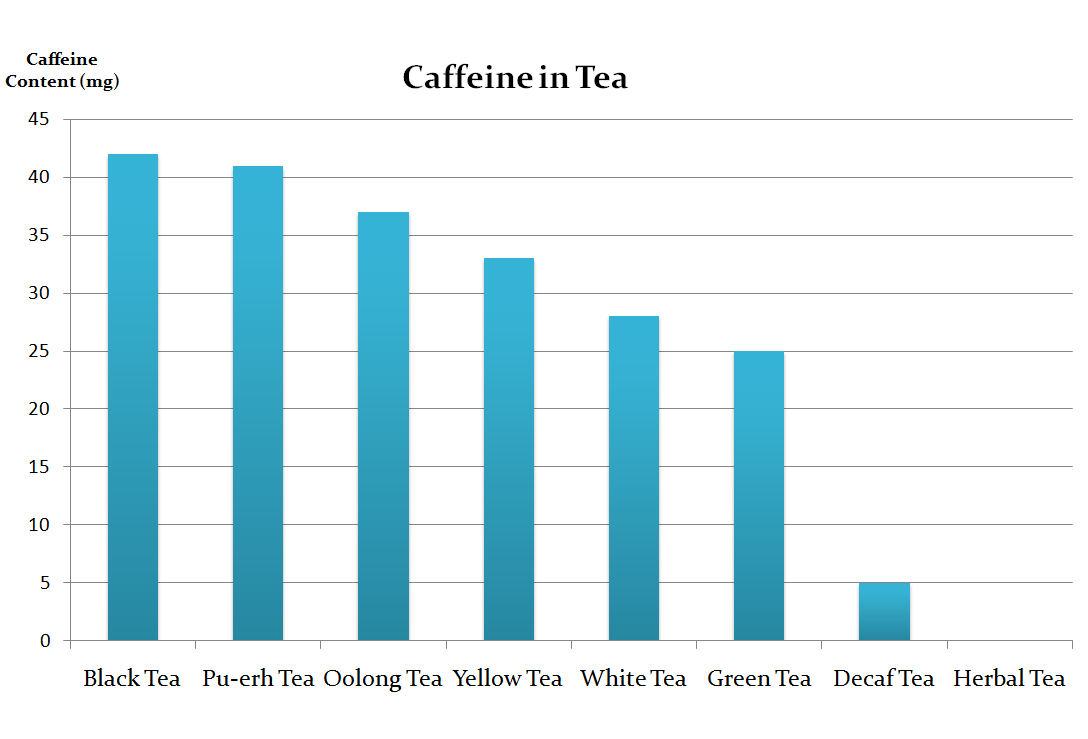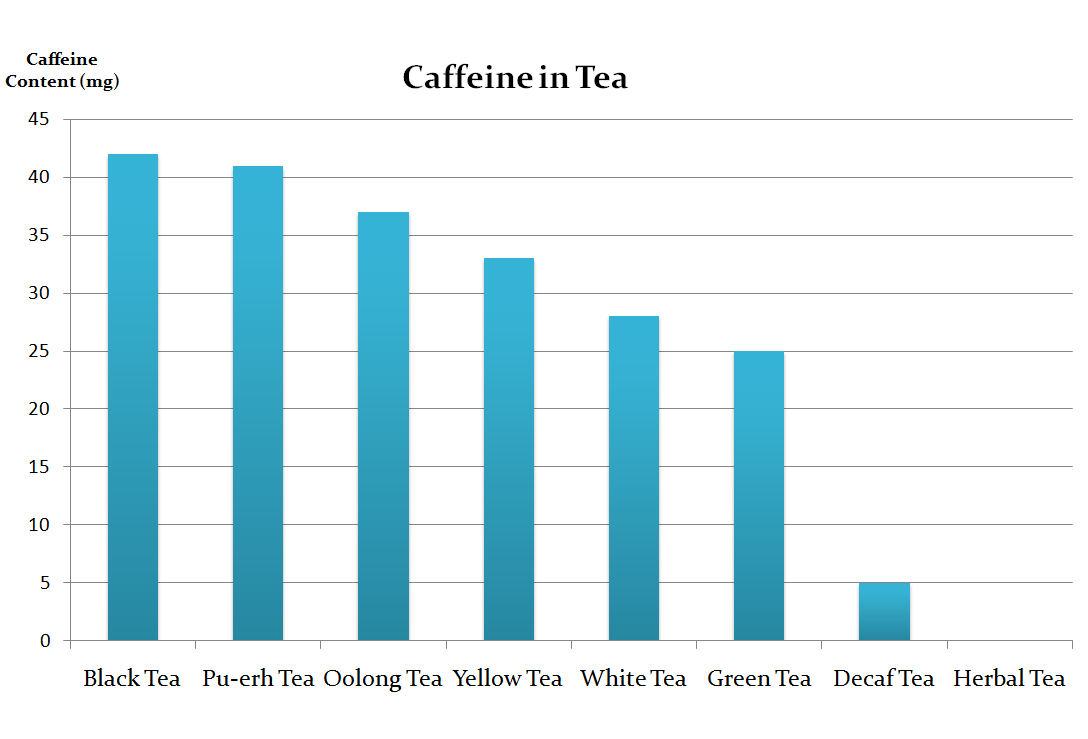 Data Sources:Caffeine Informer (https://www.caffeineinformer.com/the-caffeine-database)
III. Decaf Teas and Caffeine Free Tea
Decaf Teas
The word "decaffeinated" refers to teas that once contained caffeine and went through a process to remove it almost entirely.
There're some methods by which tea can be decaffeinated such as water decaffeination, solvent extraction, adsorption separateing and supercritical carbon dioxide extraction. The recent developmental microbial and enzymatic degradation and breeding low caffeine tea varieties are also developed for removal of caffeine. (Journal of Tea Science茶叶科学 2008,28(1):1~8; Tea research institute, caas; key laboratory of tea chemical engineering of agriculture ministry, hangzhou 310008, china)
You can also make decaffeinated tea by discarding the first infusion. The caffeine content in following infusions will be decrease.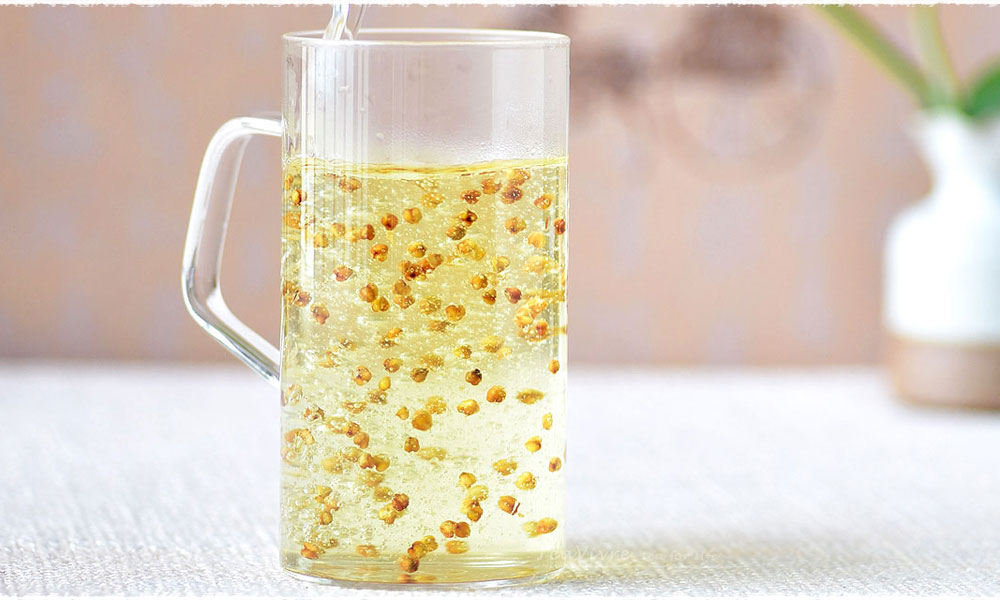 Caffeine-free teas
Caffeine-free tea refers to teas that are made of flowers, herbal, fruits etc. which do not contain any caffeine. Herbal Teas and Fruit Teas do not come from the camellia sinensis plant as black, green, oolong, puerh and white teas do, but they are naturally caffeine-free.
IV. Factors That Influence Caffeine Level in Tea
Sometimes caffeine level may be misunderstood, for example, some people think Green Tea is low in caffeine content while Black Tea is high in caffeine content. The caffeine content level is not just vary in different category, but influenced by many factors.
1. Caffeine Level of Tea Buds, Stem, Tea Leaf, Tea Powder
Tea can made from different parts of the tea plant, which contain different level of caffeine. Younger leaves and buds contain more caffeine per weight than older leaves and stems. It is commonly known that tea buds and younger tea leaves are higher in antioxidants and nutrients than older tea leaves, but few people know that tea buds are higher in caffeine. (Y.S. Lin et. al., Factors affecting the levels of tea polyphenols and caffeine in tea leaves, Journal of Agriculture and Food Chemistry, Vol. 51, No. 7, Mar. 26, 2003 Mar 26, pp. 1864-73.) Take white tea for example, teas made from buds as Silver Needle White Tea is higher in caffeine than large leaf tea Shou Mei White Tea Cake.
Broken and tea powder are usually very high in caffeine because people consume almost the entire powder rather than just infusions of tea leaf.
Conversely, tea stems contain very little caffeine. Some puerh teas contain tea steams which lead them relatively lower caffeine.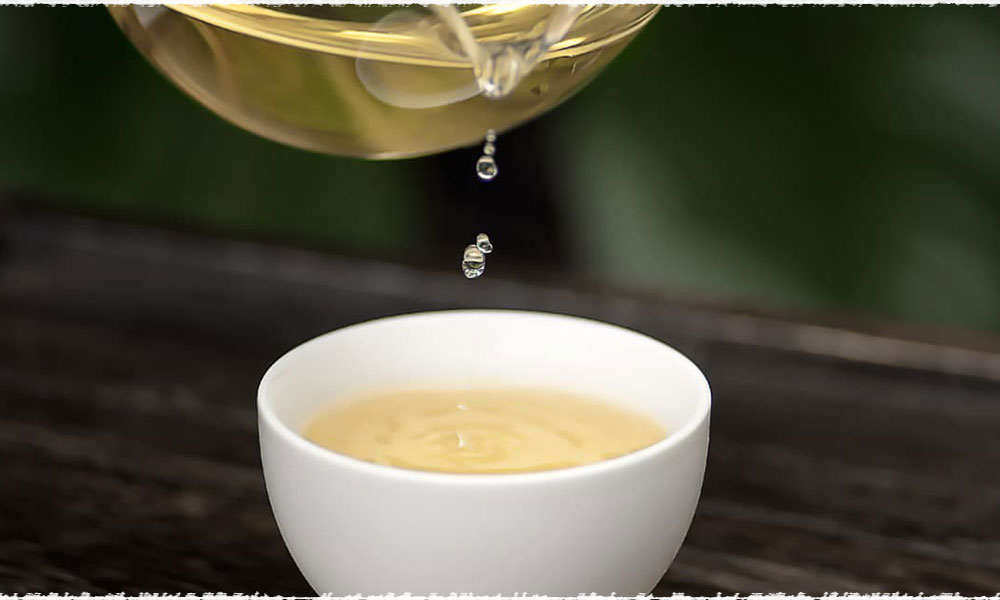 2. The Water Temperature and Brewing Time Affect Caffeine Content
When brewing the same amount of tea, the higher water temperature and longer time for steeping will both increase the caffeine content.
For Green Tea, the Caffeine and Tea Polyphenol content reaches the maximum when brewing above 90℃ water temperature. But if brewing at 60℃ water temperature, the Caffeine and Tea Polyphenol content will only release half of the total amount.
At the same water temperature, take black tea for example, it will release 40mg to 100mg caffeine if brewing for 4 minutes, while release 20mg to 40mg caffeine if brewing for 3 minutes. The release of caffeine content reaches the maximum when brewing for 10 minutes. (Shanxi University Environmental Science and Engineering Research Center 03006)
3. Fermentation on Caffeine Content of Tea Leaves
From studies made by Department of Polymer Science and Engineering, University of Science and Technology of China, Hefei, Anhui, to explore more economical methods of acquiring natural caffeine, they adopted a microbial fermentation technique to increase the caffeine content of tea leaves. Their studies showed that the caffeine content in tea leaves increased reasonably after treating leaves with microorganisms for a period of time (i.e. orthodox pile-fermentation), and the amount of caffeine content increase varied significantly between black and green teas (27.57% and 86.41%). These results suggested that the change of caffeine content in tea leaves during the pile-fermentation depended not only on the growth and reproduction of microorganisms, but also on the tea composition. (Agric. Food Chem., 2005, 53(18), pp 7238–7242)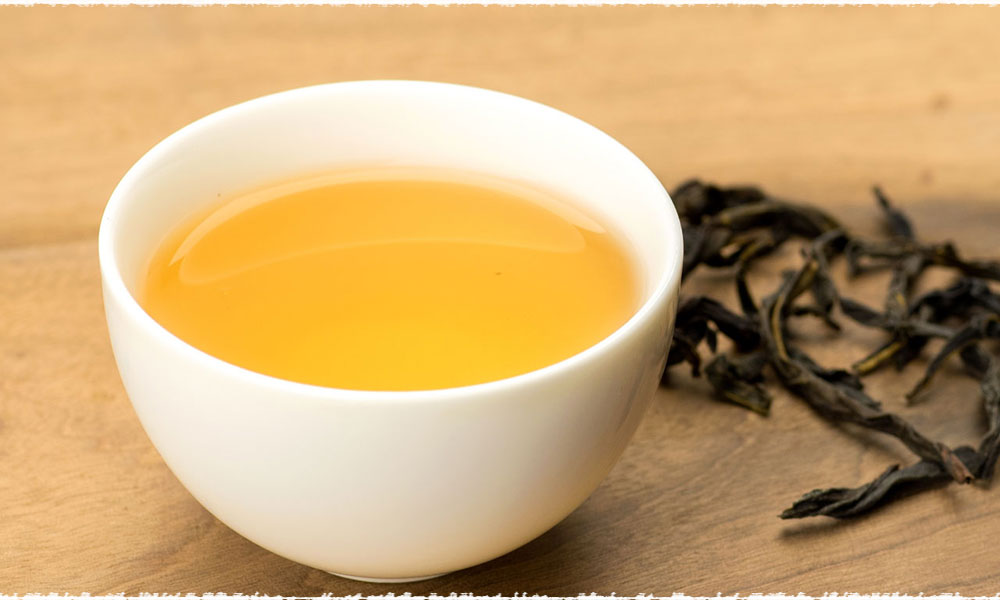 4. Roasting Process Reduce Caffeine Content in Tea
In a study published in 2005 in the Journal of Food Science listed, one particular sample of Hojicha, a Japanese roasted green tea, was found to have less caffeine even than some decaffeinated teas. (Ben Desbrow et. al., An examination of consumer exposure to caffeine from retail coffee outlets, Food and Chemical Toxicology, Vol. 45, No. 9, Sep. 2007, pp. 1588-1592.)
Just as the same with the houjicha, oolong tea that is roasted or baked is also low in caffeine.
If you enjoyed this article on tea and caffeine, you might also like to read the following articles:
Effect of Fermentation on Caffeine Content in Tea