Content
The difference between Taidi Cha and Gushu Cha is that the ancient tree teas are grown in a natural environment, most of which are more than 100-300 years old. At the same time, the Taidi Cha is cultivated artificially, mainly distributed in low mountains and hilly areas.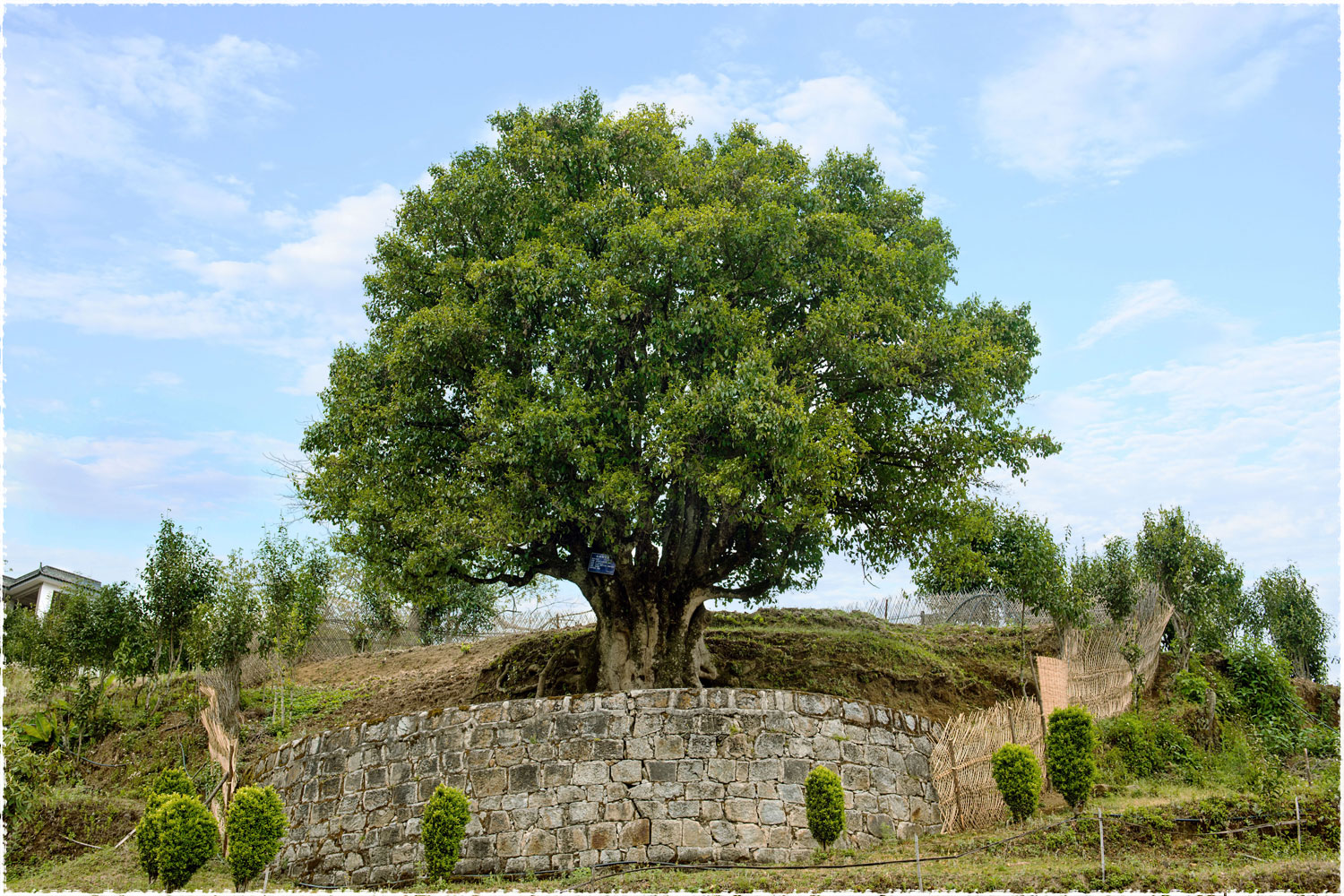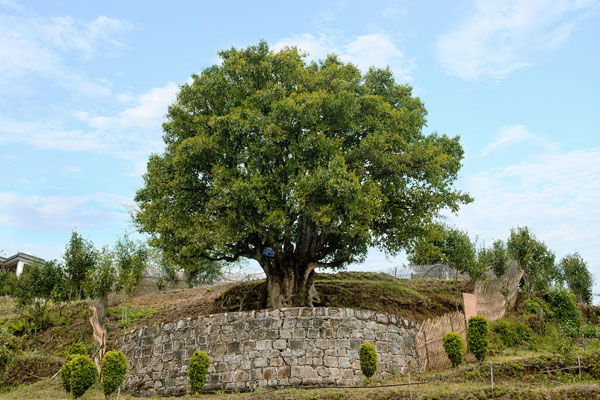 What is Ancient Tree Tea (Gushu Cha)?
Gu (古) means ancient, and shu (树) means tree. It refers to tea grown in a natural environment with little human intervention, most of which are more than 100 to 300 years old. These tea trees are mainly arbor big tea trees (Da Qiaomu, 大乔木 ), wild and over-domesticated, and some are even cultivated.
Ancient tea trees are mainly from the ancient six major tea mountains and the new six major tea mountains in Yunnan. They are distributed in the mountains at an altitude of 1400-1800 meters and stumbled with forests. Strictly speaking, it was called Gushu if the tree was over 300 years old, but others also think the standard age has been lowered to 100 years recently.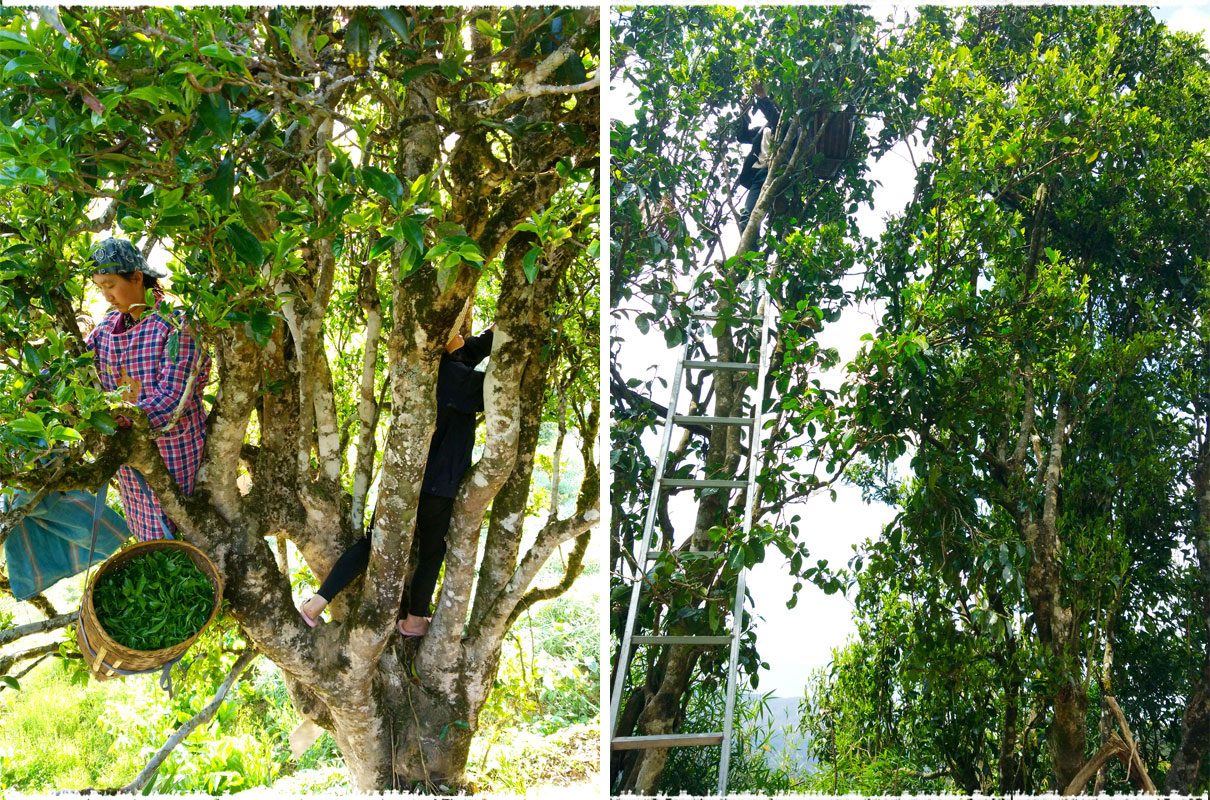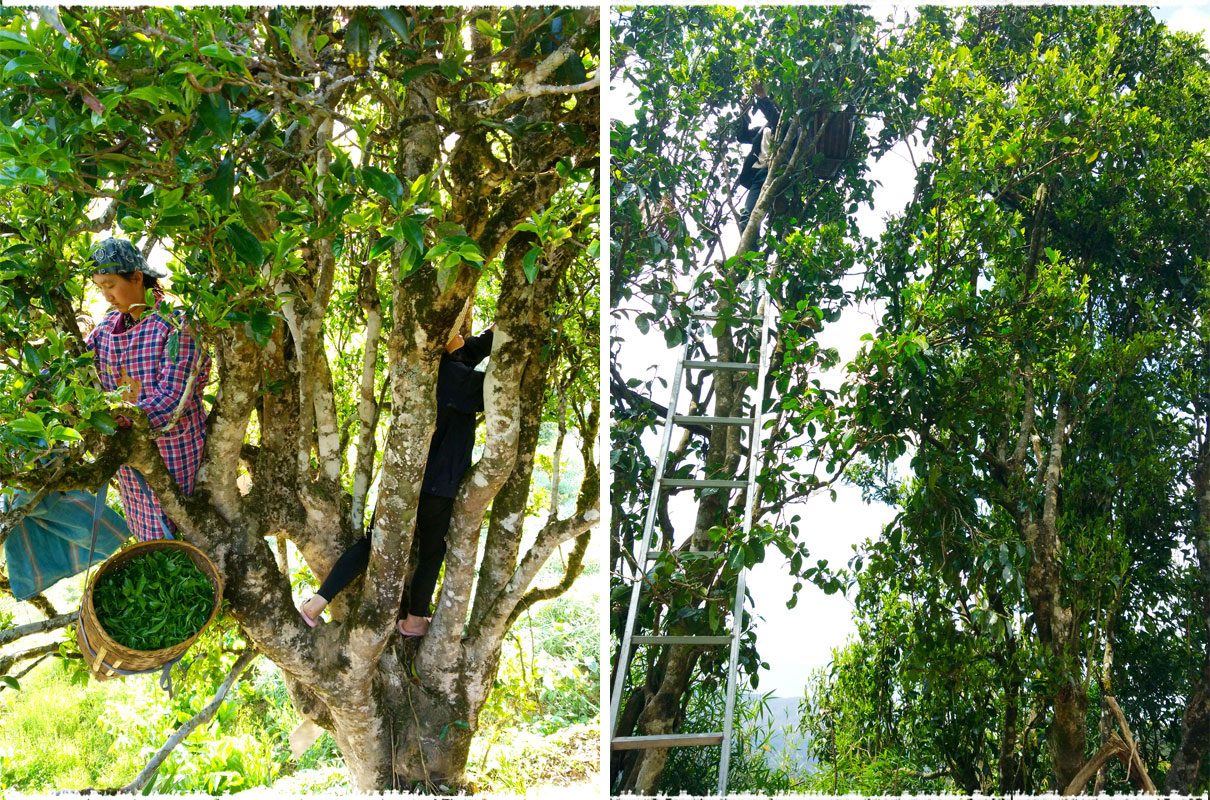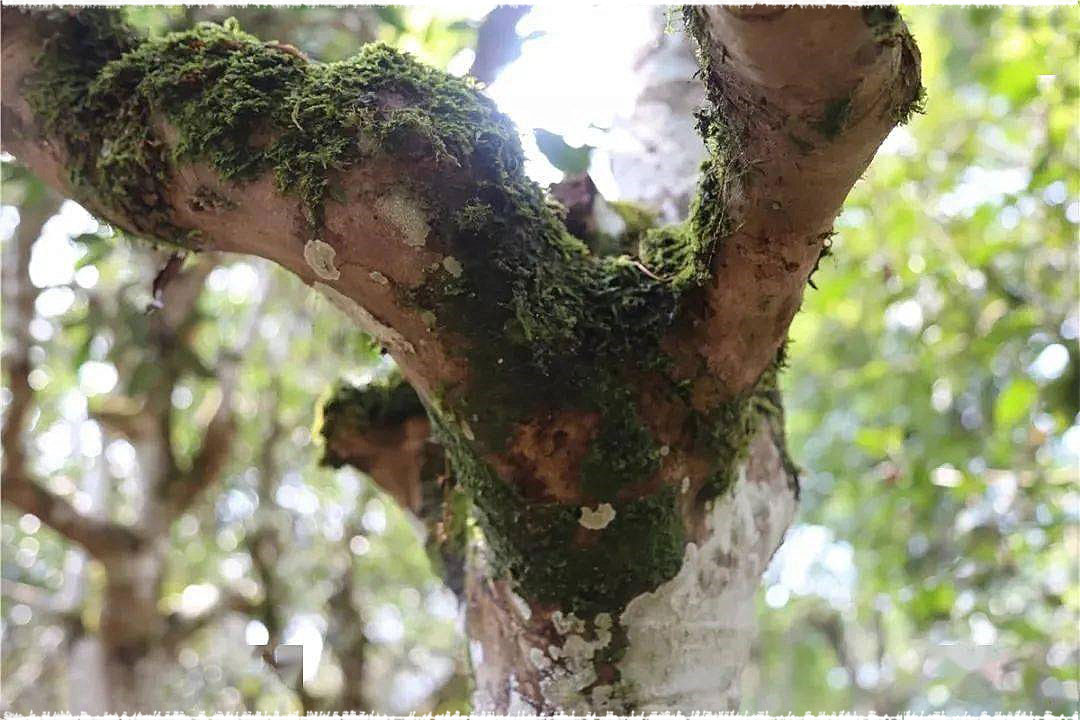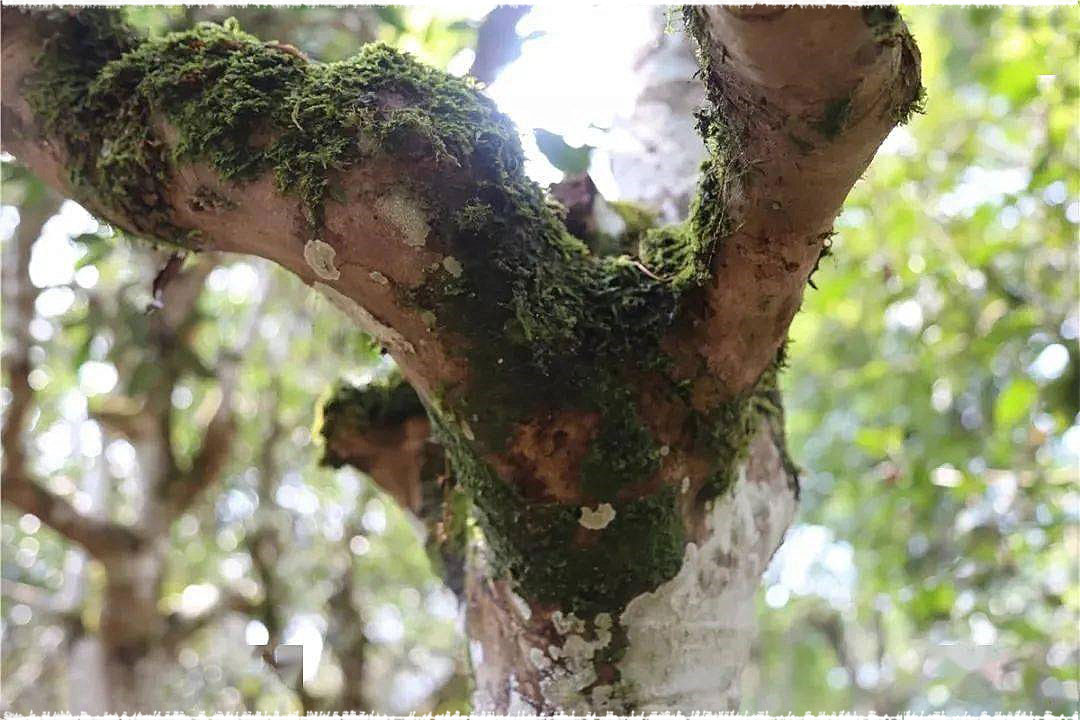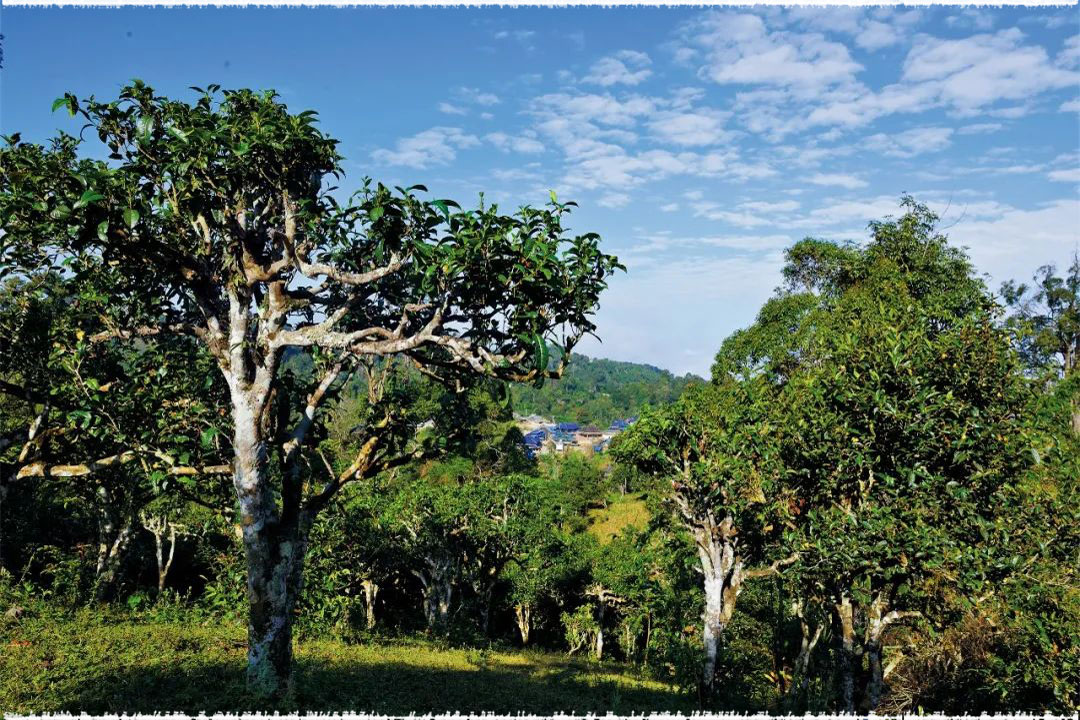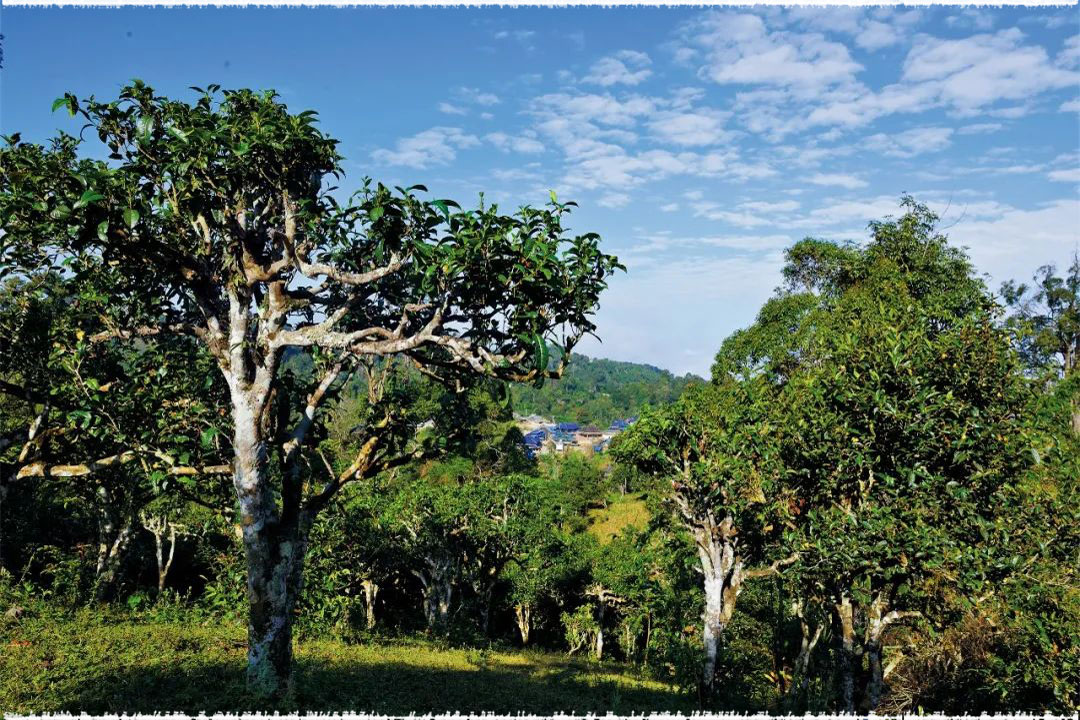 What is Taidi Cha (Plantation tea)?
It can also be called Shengtai Cha (生态茶, ecological tea), generally produced from tea trees of cultivated tea gardens less than 20 years old. These tea trees are primarily planted in tea gardens by tea farmers, so their advantages are large-scale and convenient management.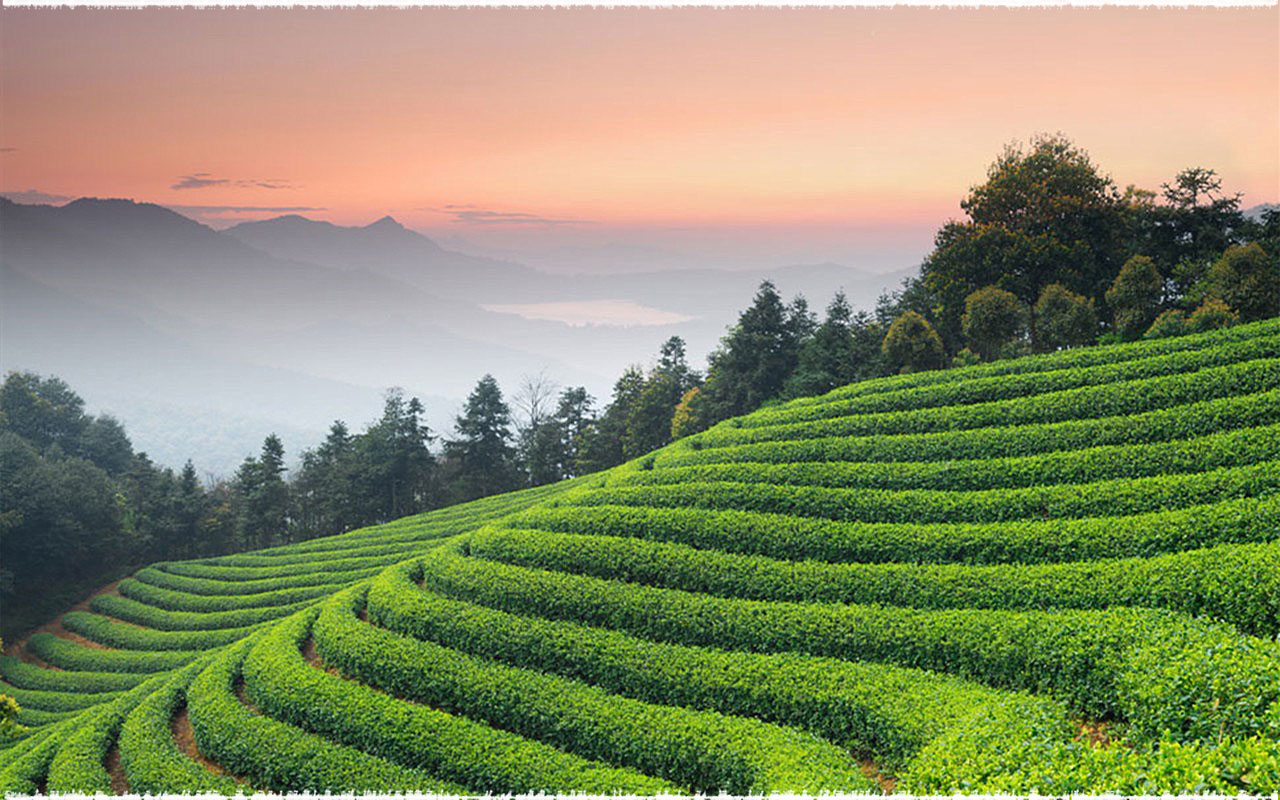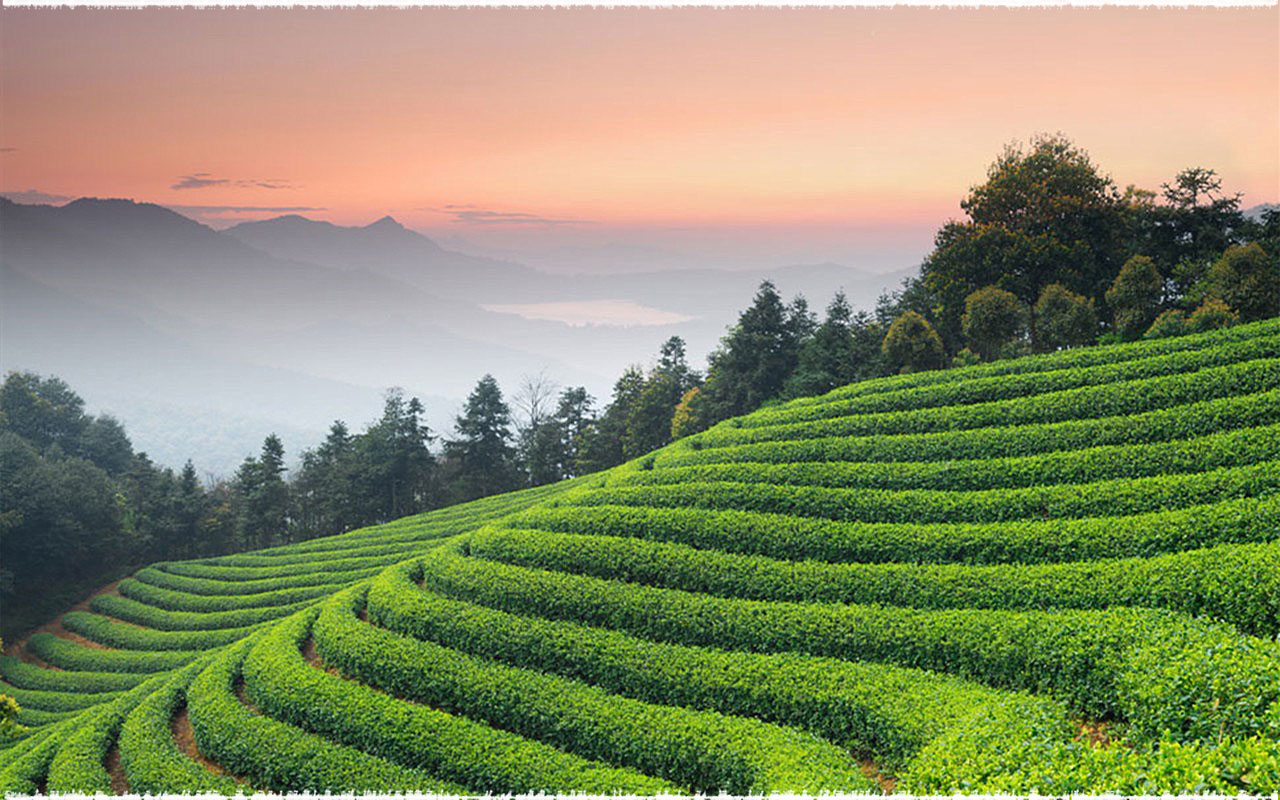 Taidi Cha vs. Gushu Cha
The above concepts show that Taidi Cha and ancient tree tea are two completely different species with different planting and cultivation methods, which make a big difference between them.
Appearance
The leaves of ancient tree tea are relatively stronger and slender because it is Large-leaf Arbor Tea Trees species. It has clear leaf veins with a noticeable texture. Because Taidi Cha is artificially cultivated, it has a relatively thin leaf with a wide & round overall shape covered with fine white hairs.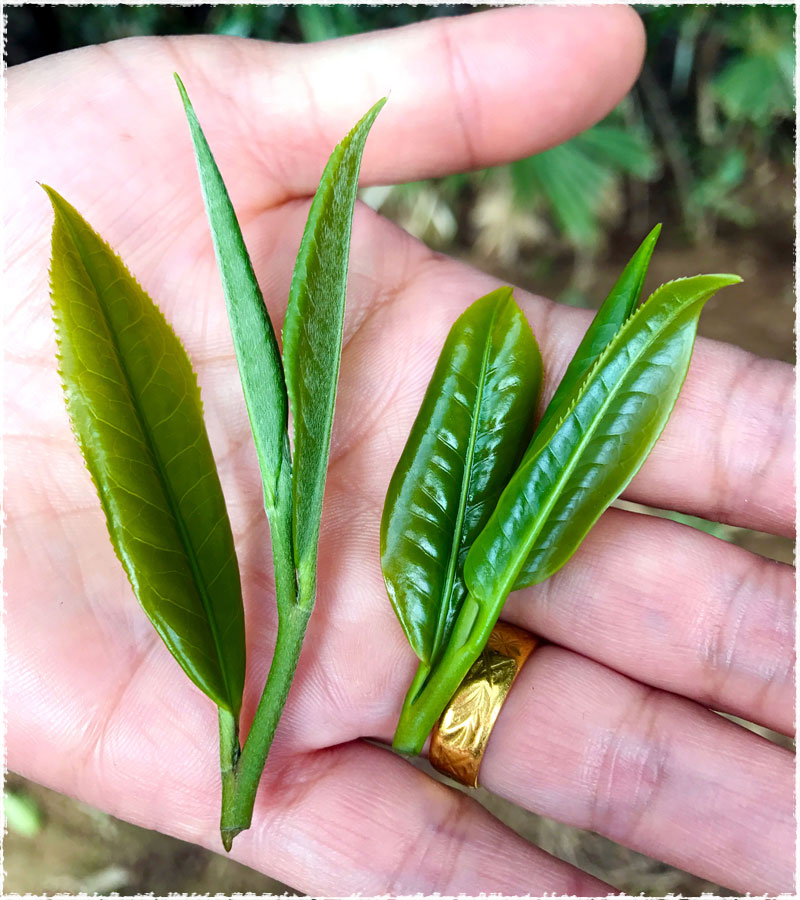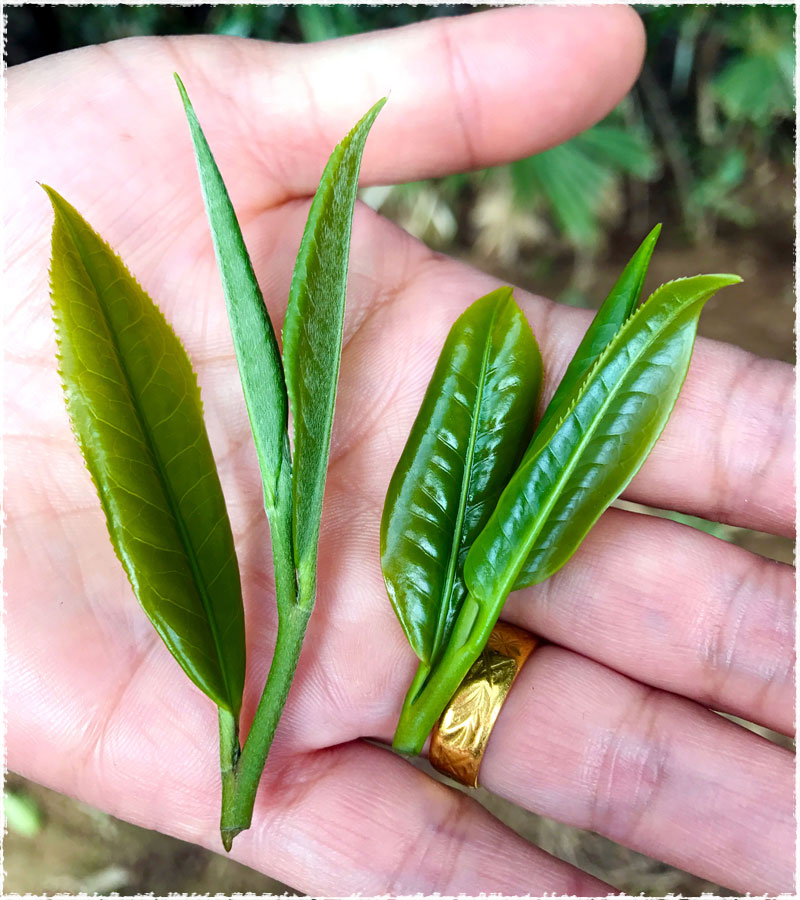 The tea leaves closest to the ring are the ancient wild tea tree
* The tea leaves closest to the ring are the ancient wild tea tree
Aroma
Ancient trees with deep roots and slow growth give these wild mountain teas their unique character, which can be very different from the Taidi Cha. Ancient tree tea has a long growth period. It is in a natural environment, so the aroma is deeper and heavier, with more intriguing complexities, which leaves a long-lasting aftertaste in the mouth. However, Taidi Cha is usually smaller and younger plants than Gushu and is grown and cultivated in tea gardens, so it doesn't carry a deep aroma like the ancient tree tea, which usually has a "floating" and "light" fragrance, which will be disappeared soon.
Taste
Ancient tree tea produces a richer taste, and you can also feel wild charm from the mountains and wilds, combined with a mellow, thick body and long-lasting flavor. While Taidi Cha gives a thin taste in the mouth, it sometimes even gets a mixed taste, leaving an uncomfortable feeling on the tongue. For some Taidi Cha, though it enters a Baqi taste in the mouth, it produces a heavier bitterness & astringency than ancient tea.
Brew Tea Leaves
When brewing Pu-erh tea, we can judge whether it is an ancient tree or plantation tea by the brewed tea leaves. Usually, the leaves of ancient tree tea will naturally stretch with fat tea buds and leaves after brewing. Taidi Cha has thin leaves, and its texture is not as good as that of ancient tree tea, so it will not be easy to stretch and curl together after brewing.
韵味 (Yùnwèi ): Lasting Appeal and Lingering Charm
The ancient tree tea gives a full mellow flavor. Though it may initially taste intense and bitter, it offers depth and can quickly turn to a natural sweetness, which lingers and stays in our mouth and throat for a long time. While Taidi Cha tastes not as mellow as the ancient tree tea, it still has the Yunwei but will disappear quickly without long-lasting lingering in your mouth.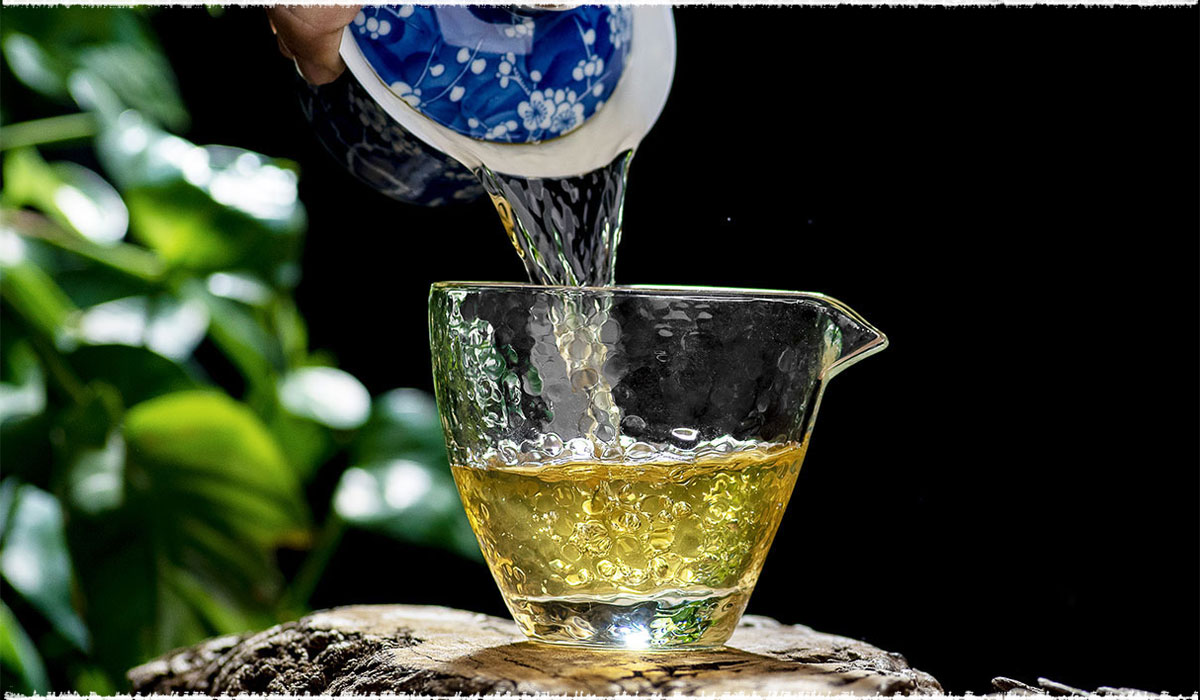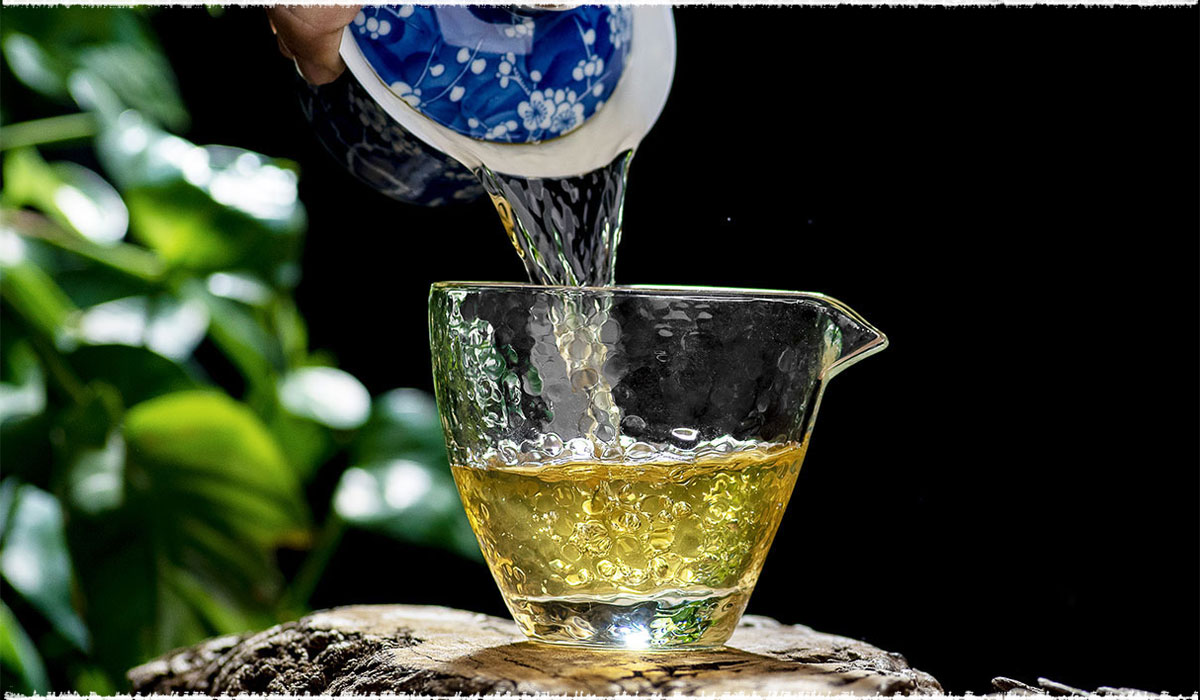 Transformation Value
The leaves of ancient tree tea come from large trees with roots deep in the soil, so they absorb more nutrients from the ground and make the leaves have more substances with transformation value, giving them more valuable as it ages; the Taidi Cha comes from tea trees of cultivated tea gardens, and the substances contained in it that can be transformed over time are rare, so it has limited transformation space.